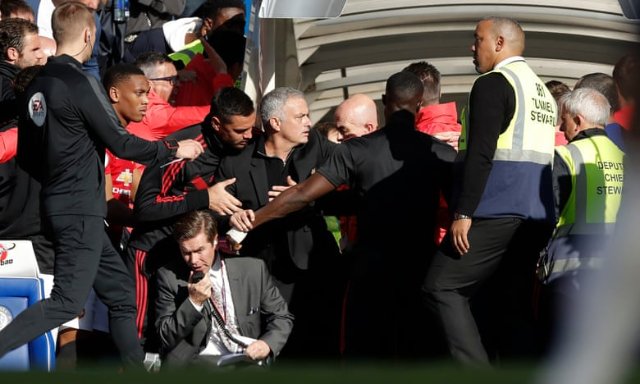 Mourinho escapes punishment for fracas after Chelsea match
Manchester United boss Jose Mourinho will not be punished by the Football Association for his part in the injury-time fracas at Chelsea on Saturday.
But Blues coach Marco Ianni has been charged with improper conduct.
The incident occurred when Ianni celebrated Chelsea's 96th-minute equaliser in front of the United bench, sparking a retaliation from Mourinho.
The FA said the Portuguese manager had been "formally reminded of his responsibilities" after the 2-2 draw.
An FA spokesperson added: "Both clubs have received similar official reminders in terms of the behaviour expected of their staff and players at all times whilst in the technical area."
Ianni has until 18:00 BST on Thursday to respond to the charge.
On Monday, Mourinho said Ianni had apologised to him and "deserves a second chance".
"I want to thank Chelsea and [Maurizio Sarri]," Mourinho said. "The young boy does not deserve more than what he got.
"He apologised to me. He deserves a second chance – he doesn't deserve to be sacked. He went through a situation where he recognises he was wrong.
"I hope everybody does the same as I did and do not disturb the career of a great guy. Probably someone with great potential. I'm not happy at all with more than that."
source: BBC