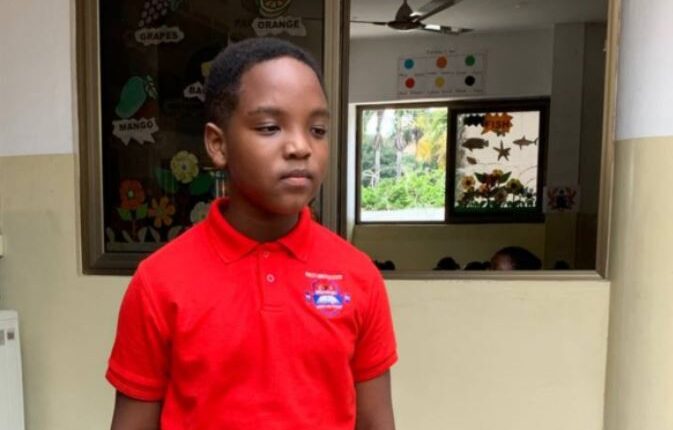 "Mummy Don't Disappoint Me" – How A 9-Yr-Old's 'Our Day' Wish Got National Attention
A Class Three pupil's wish list to his mum for his 'Our Day' celebration made national news on the morning of Friday, July 30.

Before Friday, 9-year-old Oswald Gennuh had pencilled a letter to his mother asking her to read every "tiny note". It was a detailed request, outlining all the things that he expected to have for the school party on the last day of the term.
But what was a mere wish list that was posted to Twitter by a work colleague of Oswald's mum gained national traction only a few hours after it was posted on Thursday.
The boy's wish list to his mother, among other things, appealed for "Big Coke for Mrs Appiah" and "A pack of biscuits and drinks".
The letter ended with a simple but firm expectation -"I didn't disappoint you in the exams so please don't disappoint me," young Oswald wrote.
No sooner had Mrs Gennuh's work colleague posted the letter than Domino's Pizza express an interest in providing 10 boxes of pizza for Oswald and his class. From that point, the floodgates were opened for multiple brands and individuals.
Our Day instructions that my colleague's son gave to her. The emotional blackmail at the end 😂😂😂 pic.twitter.com/VrEuUeQYAW

— Gambit ♠️🐻 (@SmylyThe3rd) July 29, 2021
By The Ghana Report's count, more than 30 firms in finance, tech, education, foods and appliances volunteer to support Oswald's Our Day expectations. Thankfully, only very few donors forgot the little boy's first request on the wish list which was a big bottle of Coke for his favourite teacher, Mrs. Appiah.
It is fair to say that the beloved Mrs Appiah had a lot more than a big bottle of Coke.
The post that revealed Oswald's letter triggered excitement on social media with 'Our Day' garnering over 200,000 tweets and reactions from individuals making light-hearted fun of the situation and companies promising to make Oswald's day memorable.
Just as promised, the brands delivered, making the pupils at Oswald's school, Christ Ambassadors School in Sakaman, excited.
Media houses were also present at the school on Friday morning to celebrate the little man, with impromptu appearances by musicians such as Kidi and Mr. Drew.
Below are some of the pledges made by the many brands that responded to Oswald's letter on Twitter:
He definitely deserves something nice 😂. How about we supply him with enough ice cream for his whole class? We go kee them with Enjoyment!🍨 https://t.co/NAfyzYJRSz

— FanIceGhana (@faniceghana) July 29, 2021
What to eat at lunch? Well.. 🤔 Will Streetwise 10 and Krushers be enough for him and his class? Lunch on us! 😊 #OurDayTreat https://t.co/c4qr4CEbzM

— KFC Ghana (@KFC_Ghana) July 29, 2021
We didn't see pizza on the list🥺😢. But what's Our Day without Domino's anyway? Count us in😄 10 boxes for his class on us! 🍕#JusticeForOurDayBoy https://t.co/tIOr1WsXNt

— Domino's Pizza Ghana (@Dominos_GH) July 29, 2021
This boy has got some real inner strength and we will like to fuel it some more! 💪🏾
We're are giving out milk packages to everyone in his class 🥛😅 https://t.co/sDEdj3J7sp

— Arla Dano Milk (@DanoMilk_GH) July 29, 2021
Did someone say Our Day? Nbs party tomorrow oo! Bel Beverages and Bel aqua water for the whole class including the legendary Mrs. Appiah. 😎 https://t.co/MiKKfD7b6Q

— Bel-Beverages (@BelBeverages) July 29, 2021
You shouldn't leave good hygiene out of the fun.😉
Lifebuoy Ghana will be repping live to give out free samples to his class and two free Handwash Stations!!! https://t.co/B6hfiiGu0F

— Lifebuoy Ghana (@LifebuoyGhana) July 29, 2021
We have been informed about this very detailed "our day" petition, and we love it! When they are ready, we'll give him and his class a tour at Ashesi and do our best to convince @PatrickAwuahJr to meet with them! https://t.co/7QhWKAHc37

— Ashesi University (@Ashesi) July 29, 2021
What's "our day" without securing a bright future for this daring chap? We'll help his mother open an Early Saver's account for him so he can have a Perfect Start to life with GHS 1,000 in the account. We will get in contact with mummy https://t.co/Un3ktp2bsT

— Access Bank Ghana (@AccessBankGhana) July 29, 2021
Oswald is such a fascinating & intelligent boy. I am absolutely thrilled by his story.

I am immediately sending to him the latest iPad Pro fully loaded with educational content just as he wishes.

Do have a memorable our day my gem. Will pay you & your class mates a visit soon. https://t.co/DPpGYw5Vaq

— Professor Naana Jane Opoku-Agyemang (@NJOAgyemang) July 30, 2021
See the reaction of Oswald's mother when she read the message from @NJOAgyemang #MrsAppiah #OurdayGh pic.twitter.com/2Sz5a0Oqc9

— Kobby Blay (@kobbyblay) July 30, 2021
Hello Oswald, here comes your iPad Pro 😊 pic.twitter.com/eWkuBq0xfz

— Professor Naana Jane Opoku-Agyemang (@NJOAgyemang) July 30, 2021
Our day boy Oswald is a nice guy😍 pic.twitter.com/45645Dh5Zw

— Awia Koko💧🇬🇭 (@sir_enock8) July 30, 2021
I'll be providing 5 bags of Nana's Rice to Oswald. Make he chop local rice then make healthy give we. @NanasRiceGH @AgroKingsGH. This our day go mad 😊🌾😁 https://t.co/LriI8Kxv1i pic.twitter.com/0ahkMuiR8n

— KALYJAY (@gyaigyimii) July 30, 2021
#OurdayGh #OurDay Dear Oswald we are on our way! pic.twitter.com/KMpGlLCwti

— CandyCupid (@candycupidgh) July 30, 2021
Together with @KiDiMusic, we passed through Oswald's school to hand him a Galaxy Tab A and other goodies for Our Day! Mrs Appiah and her class were also not left out. It's a celebration. pic.twitter.com/VSpZhqL3iH

— Samsung Ghana (@Samsung_Ghana) July 30, 2021
Together with @KiDiMusic, we passed through Oswald's school to hand him a Galaxy Tab A and other goodies for Our Day! Mrs Appiah and her class were also not left out. It's a celebration. pic.twitter.com/VSpZhqL3iH

— Samsung Ghana (@Samsung_Ghana) July 30, 2021
After Our Day Oswald and Mrs Appiah will need laptops for Zoom meetings during the vacation. Where's the location please?

— Ansnet IT SOLUTIONS (@AnsnetIt) July 30, 2021
We hope we're not too late to the Our Day party? 👀. We will be happy to host Oswald and his family this weekend at Azmera 🤗. Kindly DM us. https://t.co/0E4uQ1zsEp

— Azmera Restaurant (@Azmera_Res) July 30, 2021
#Oswald is a smart kid. How about a free robotic kit and training during the vacation. #ourday #MrsAppiah pic.twitter.com/Sl6VL8osr1

— OpenLabs Ghana (@openlabsgh) July 30, 2021
My guy Oswald counting his pizza. Herh 😂 Auditor General in the making pic.twitter.com/Sj9ZKV21JK

— EL-DAD (@ChristDeKing) July 30, 2021
Oswald best Yogurt brand #dolat going to surprise him on his Big Day at school. #MrsAppiah #OurDay pic.twitter.com/gcLDzWd4JI

— Dolait_Ghana (@Dolait_Ghana) July 30, 2021
We do see Oswald as a future Ɔdadeɛ and want to give him an opportunity to take a tour of Presec, our state of the arts Ɔdadeɛ Alumni and Mentorship Centre and then finally meet up with our Ɔdadeɛ Global President; Dr. Ernest Ofori Sarpong and his Veep @PatriciaOboNai https://t.co/v0otac9tPL

— Ɔdadeɛ-Presec Alumni (@Odadee_Official) July 30, 2021
I also want to give Oswald UNO cards in addition to a wooden CHESS set or SCRABBLE. Delivery to the school would be done by @triple_dd1 for free. https://t.co/1kGHLiOt1U pic.twitter.com/bo2wYoMESU

— Bonsam Tremendous🇵🇸 (@mufasane) July 30, 2021
After Our Day comes the holidays!
We'd love to give Oswald and his friends the #FeeliFeeli Experience this vacation. Free HD+ Decoders with 3 months free subscription to his entire class to watch their favourite kids channels in premium quality the entire vacation. https://t.co/ISKT6JOEGD

— HD PLUS Ghana (@hdplusghana) July 30, 2021
Package delivered by our brand ambassador 🤗#Ourday #nokofine || Oswald pic.twitter.com/5lXdwv89c0

— Grill Sane GH (@grillsanegh) July 30, 2021
KiDi at Oswald's Our Day celebration 🔥 pic.twitter.com/TiVW1jtiQb

— ℝ𝕠𝕪𝕒𝕝𝕥𝕪😈 (@Royaltycfc) July 30, 2021
Golden boy presents gifts to Oswald #ourday pic.twitter.com/RYRggoMcsN

— YOUNGEST PRODUCER! 🇰🇪🇬🇭 (@dearpurplelane) July 30, 2021