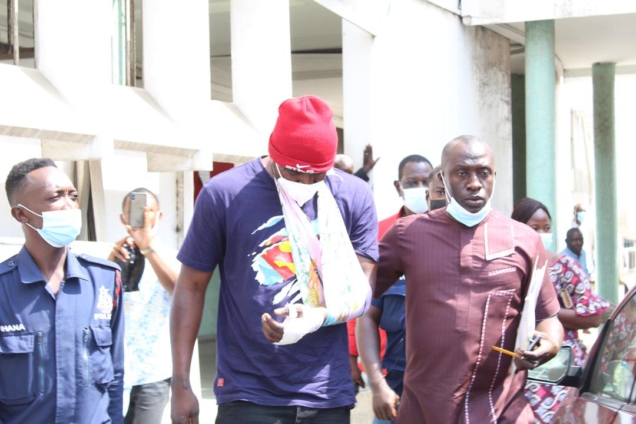 National security operative shot journalist at collation centre- Court hears
The gunman whose sporadic shooting left a journalist and a police officer injured at the Ablekuma Central Collation Centre is a national security officer.
His name is Collins Kwaku alias Kwanin 'Kola' his legal counsel, Faisal Cisse, told the Accra circuit court.
He was stationed at the presidency and was assigned to the collation centre on election day.
The accused has been charged with six counts of causing unlawful harm and use of offensive weapons.
At least one person has died from the incident. A 30-year-old man, Ibrahim Abass, was pronounced dead on Wednesday after battling for his life at the Korle-Bu Teaching Hospital.
When the accused person was put before court on Thursday, Kwanin pleaded not guilty to the charges.
His lawyers had wanted to use his job as a national security officer to secure bail for him because his job would be a security for believing he would be available for trial.
According to reports, Kwanin's reckless gunshots injured a police officer and a journalist, Pius Kwanin Asiedu, who needed surgery.
Making a case for bail before the court presided over by Emmanuel Essandor, Kwanin's lawyer, Faisal Cisse, said his client is a public servant who worked at the office of the President.
He said Kwanin was among security personnel assigned for election day assignment and the gun in question was given to him by his supervisor.
He told the court his client has a service number of Jh/pol/19/325.
Mr Cisse said the defence would prove that the accused person also suffered in the hands of the security personnel.
The accused person came to court with his head wrapped in a bandage and his right arm in a sling
His legal counsel claimed that the accused person got injured from a cement block that was used in hitting him and is currently receiving treatment at the Korle-Bu Teaching Hospital where he is on admission.
He, therefore, pleaded with the court to grant the accused person bail.
The prosecutor, Inspector Eric Pobi, did not oppose the bail application.
But the judge thought otherwise and remanded the accused person in custody for a week.
'Kola' on December 8 allegedly shot five people including a journalist and a police officer at Ablekuma Central collation centre for the 2020 elections.
Mr Asiedu went through a successful surgery on Friday, December 11. Six days later, the man who made him face the surgeon's knife also faced the law.
RELATED: SIC To Pay Medical Bill Of Shot Journalist
An unnamed police officer on duty at the collation centre also sustained a gunshot wound from the assailant described as "notorious" for acts of impunity.
Mr Asiedu was shot in the left leg by a man believed to be an NPP sympathiser while observing the electoral process at the Ablekuma Central collation centre last Tuesday.
The shooting incident which happened around 2:30 am on December 8, 2020, left Aseidu, a police officer, and one other reporter from GBC radio, Doreen Ampofo, suffering various degrees of injuries.
Doreen got injured from a heavy fall in an attempt to flee from the gunshot.
The Ablekuma Central incident is one of 61 violent incidents that happened during the country's 2020 elections.