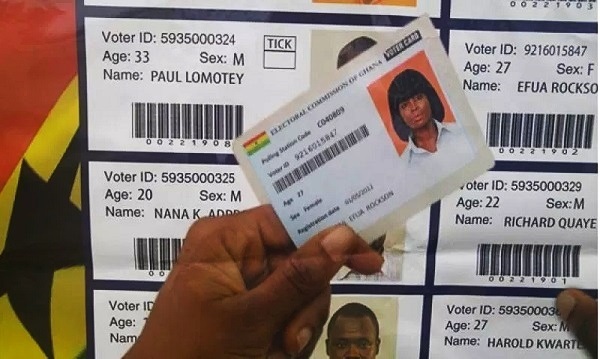 New EC register unnecessary and unjustified – Group charges
A social activist group, Coalition of Restoration (CFR), has emphatically said that the new Electoral Commission (EC) register is unnecessary and unjustified.
It has, therefore, called for its suspension.
According to them, the intended procurement of a new database and information technology infrastructure among other things is not a justifiable use of the public purse.
"A new Electoral Commission IT infrastructure cannot be implemented in isolation of other state institutions especially the Revenue Department and National Identification Authority since these databases need to synchronize with each other, " it said in a statement signed by its Communications Directorate, Jerry John Mensah.
The groups' concern falls on the back of recent controversies surrounding the compilation of a new voter register for the 2020 elections.
The EC strongly believe there is the need to compile a new voter's register before the upcoming elections.
To justify the proposal, the EC said a new register was critical for the 2020 polls as they need a new Biometric Voter Management System to replace what they say has become obsolete.
But this development has caused a massive stir in the political arena, with many questioning the need to have a new register.
Critical amongst them is the opposition National Democratic Congress (NDC) who appears to have joined hands with other political parties to echo their reservations with a series of demonstrations and public forums.
The Inter-Party Resistance Against a New Voters' Register (IPRNA) on Saturday, begun a series of protests against the compilation of a new voter roll by the Electoral Commission (EC).
Members of the IPRNA include the National Democratic Congress (NDC), Progressive People's Party (PPP), Convention People's Party (CPP), People's National Convention (PNC), Eagle Party, All People's Congress (APC), United Peoples Party (UPP) and the United Front Party (UFP).
Also read the Managing Editor of the Daily Insight newspaper, Kwesi Pratt Jr. stand on the said argument.
Drop "useless adventure of compiling a new voter register" – Pratt tells EC
The EC, however, remain resolute on its stance
No demo will stop EC from compiling new register – Commissioner
The group is also calling for the suspension of the new register and has advised the commission to go back and engage stakeholders extensively before executing its intended purpose.
Find below the full statement from the group