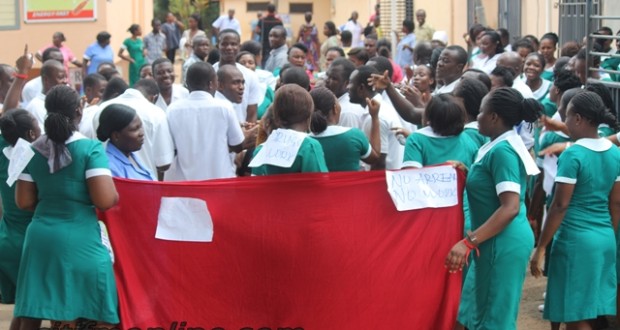 Newly posted nurses threaten hunger strike over unpaid salaries
The Coalition of 2019 Posted Nurses has threatened to embark on a hunger strike on Friday, 30 September 2022, if the government fails to expedite payment of their eight-month salary arrears.
According to the group, this line of action has become necessary after every effort to get paid proved futile.
In a press release addressed to the media, the nurses lamented their day-to-day plight in discharging their duties.
They added that they had endured these hardships "because of the love we have for the job and our clients, but we are currently at our wit's end. Enough is enough!"
"After exhausting all possible ways of getting our salaries paid after working for 8 months(degree nurses) and 7 months(diploma nurses), we wish to make known our next line of action;
30 September – All 2019 posted nurses to embark on a hunger strike
1 October – All 2019 posted nurses to lay down their tools until further notice."
They further urged the government to act quickly to ensure their continuous service to the nation.
"Government should, as a matter of urgency, expedite payment for all 2019 posted nurses so we can continue serving our mother Ghana," the press release concluded.
Below is the full press release