Nigeria records first coronavirus case amidst fears of unpreparedness
Nigeria has recorded Sub-Saharan Africa's first case of coronavirus, raising fears about Africa's most populous country's readiness to contain the dreaded disease.
The patient is an Italian businessman, who returned to Nigeria from a business trip from Milan but fell ill.
The reported case comes at a time Nigeria's Senate, on Wednesday, criticised the Federal Government for not doing enough to screen passengers coming into the country from the nation's airports and seaports.
Nigeria's Punch website reported that the country's Ministry of Health in the Lagos State had confirmed the first case of the novel coronavirus disease (COVID-19), incidentally the first in West Africa since the outbreak in China in January 2020.
It is the second confirmed case in Africa following one recently recorded in Algeria and Egypt in North Africa.
The Nigerian government said in a statement that the unnamed patient was "clinically stable," and did not have "serious symptoms" and was being treated at the Infectious Disease Hospital in Yaba, Lagos.
Lagos is Africa's largest city, with over 20 million people.
The Lagos State Government said it has reported the case it to the Federal Ministry of Health.
"The case is an Italian citizen who entered Nigeria on February 25, from Milan, Italy for a brief business visit.
"He fell ill on February 26, and was transferred to Lagos State Biosecurity Facilities for isolation and testing. COVID-19 infection was confirmed by the Virology Laboratory of the Lagos University Teaching Hospital, part of the Laboratory Network of the Nigeria Centre for Disease Control.
"The patient is clinically stable, with no serious symptoms, and is being managed at the Infectious Disease Hospital in Yaba, Lagos."
The state government said it was working with the Nigeria Centre for Disease Control, and other preparedness groups, to ensure the case was managed out of circulation.
Nigeria is one of 13 African countries that the World Health Organization classified as a high priority in this outbreak because of direct links to China or a high number of visitors from there.
WHO concerned about the virus spreading to countries with weaker health systems declared the outbreak a 'global health emergency'.
In 2014, Nigeria was praised for quickly containing cases when the Ebola outbreak reached the country after an infected man from Liberia landed in Lagos.
Nineteen people were infected and seven died, but officials were praised for effective public awareness campaigns and strong leadership.
The global spread of the Convid-19 outbreak transformed into a fierce sprint since Tuesday, with over 13 countries recording their first confirmed cases as the World Health Organisation warned of an epidemic.
More than 83,000 people in at least 47 countries have been infected with over 2,200 deaths confirmed, most of them in China.
Read full statement from Nigeria's Health Ministry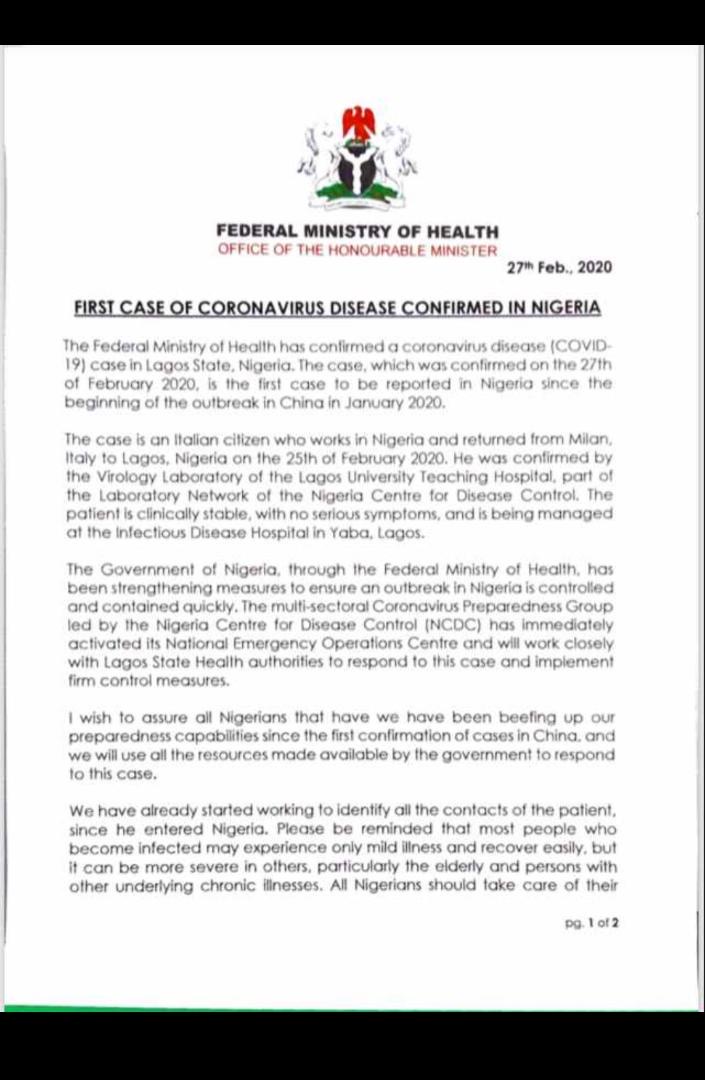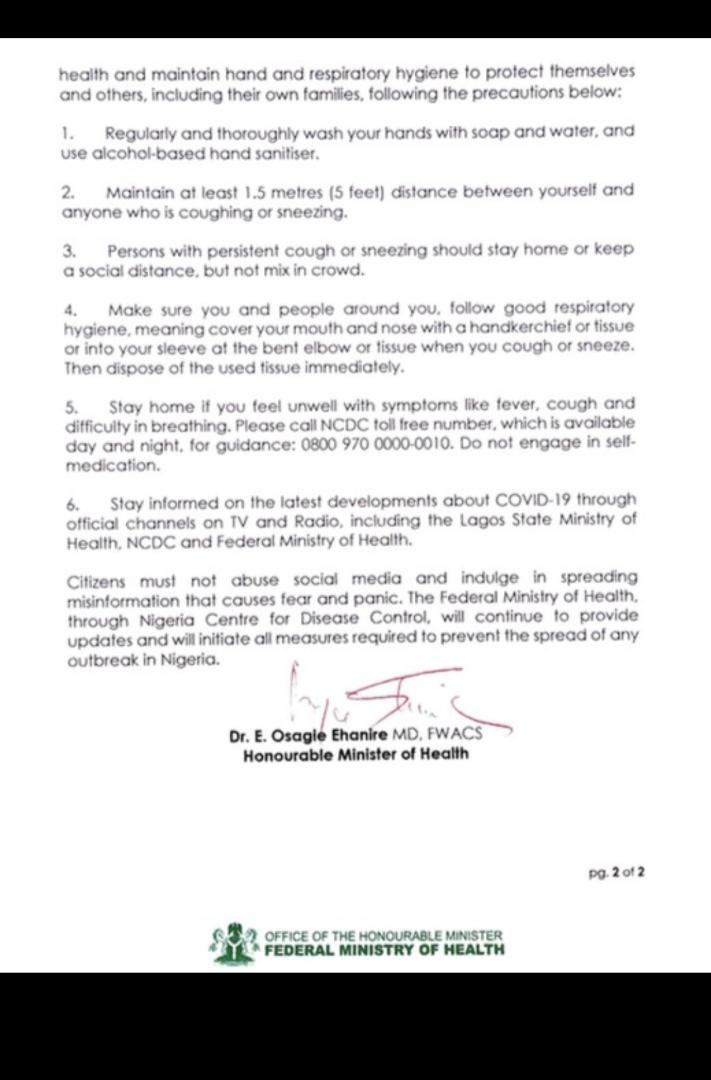 Also, read other related stories
Iran's vice-president diagnosed of Coronavirus as outbreak spreads
Coronavirus: 20-year-old woman passes on virus to 5 relatives without signs of infection – Report reveals