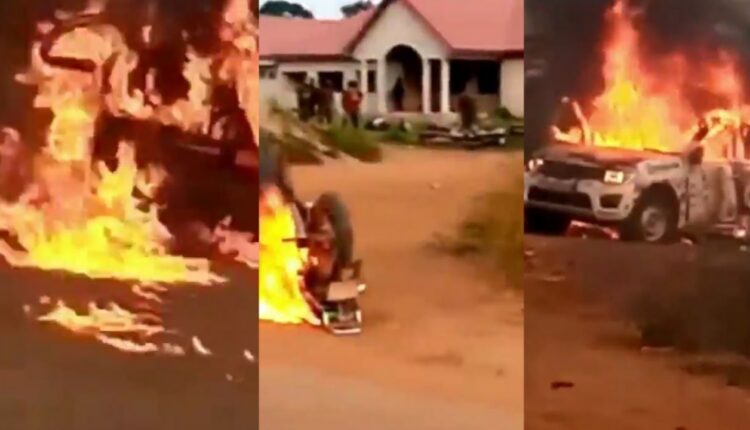 Nkrankwanta NPP, NDC clash: 7 more arrested
The Police in the Dormaa West District of the Bono Region has arrested seven more persons in connection with bloody clashes at Nkrankwanta that resulted in the death of one person.
This brings to 10 the number of people currently in police custody for their alleged roles in the Nkrankwanta New Patriotic Party (NPP) and National Democratic Congress (NDC) clash.
The Public Relations Officer of the Bono Regional Police Command, Chief Inspector Augustine Kingsley Oppong, said the seven were brought to the station on Monday.
"Around 3pm, seven more persons were brought from the area with the information that they were also involved in the crime ranging from causing damage to murder.
"The statements of the seven will be taken, once we get credible evidence of their alleged involvement, we will put them before court," he said in a Citi FM interview monitored by theghanareport.com.
He, however, mentioned that once there is no cogent evidence, the seven persons would be granted bail.
He further said that investigations are still ongoing to ensure the culprits are brought to book.
Background
The violence that erupted between supporters of the NDC and the NPP during the mop-up of the Electoral Commission's voter registration exercises resulted in the death of one person, leaving two others in critical condition on Saturday, August 8.
The deceased, Kofi Larbeth, 36, was pronounced dead after he had been rushed to the Dormaa-Ahenkro Presbyterian Hospital.
The two others, who sustained wounds, are Kwame Gutan, 33 and Elliasu Gabriel, 45.
The chaos resulted in the burning of a vehicle and motorbycycle.
The three who were earlier arrested are Ali Musah, 33, Ibrahim Acquah, 33 and Amos Aning, 38.
The Bono Region is the only region in the country that recorded two deaths through violence in the just-ended registration exercise.
On July 14, a 28-year-old man was stabbed to death in electoral violence at Banda in the Bono Region. 
Unidentified people stabbed the deceased, a fresh graduate from the Akim Oda Teacher Training College, in the back after he was allegedly accosted by some persons suspected to be NPP activists.
It is unclear what might have triggered the violence, but some people have attributed it to political tension between the opposition NDC and the governing NPP.
The family of the deceased has refuted claims the deceased was a political activist.