No Ghana Card, no salary – Controller warns public sector workers
The Controller and Accountant-General's Department (CAGD) has warned that public sector workers who do not possess a National Identification Authority (NIA) identity card (Ghana Card) risk not being paid salaries starting December 1, 2021.
"Please note that effective December 1, 2021, workers on the government of Ghana payroll who have not registered with the NIA will not be paid," the CAGD noted in a statement issued on Tuesday, October 12.
According to the department, the move formed part of the government's efforts "to deliver secured and verified payroll services to public workers and pensioners while reducing the risk of undeserving payments or claims."
The department has indicated that it was working together with NIA to have a harmonized database to facilitate in the public notice stated the registration of government workers
It, therefore, urged all existing and prospective government workers to ensure that they were registered with the NIA and have obtained their unique identity numbers to avoid missing receiving their salary payments.
Read the full statement below: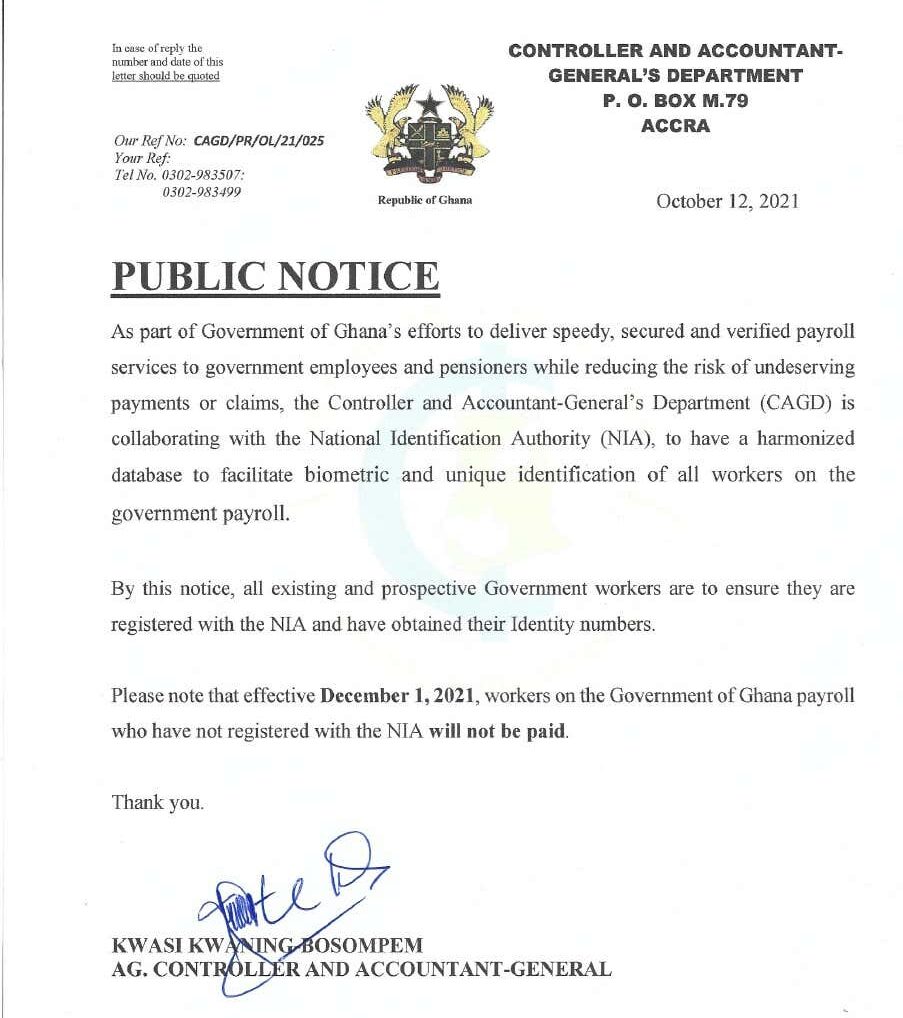 About the CAGD
The Controller and Accountant-General's Department is a Civil Service Department under the Ministry of Finance, responsible to the Minister for the custody, safety and integrity of public funds.
It also exists to provide Public Financial Management Services to the Government and the public through efficient and skilled staff, using the most appropriate technology to receive, disburse and provide secure custody for public funds.
READ ALSO: Closing Down 6,000 Public Accounts Will Check Gov't Expenditure – Controller