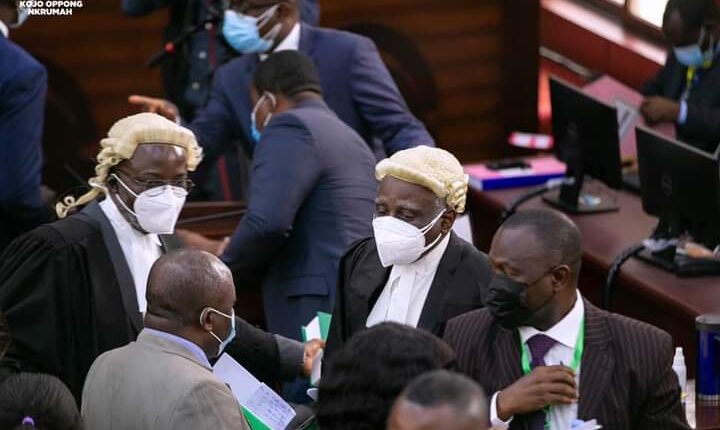 Not testifying is an affront to justice – Tsikata insists on cross examining Jean Mensa
Counsel for the petitioner in the ongoing election petition hearing said the first respondent's unwillingness to call its witness is an affront to justice.
According to Tsatsu Tsikata, who is counsel for the NDC Flagbearer John Mahama, the EC Chairperson Jean Mensa, who was the returning officer for the December 7 elections must mount the witness box once it has filed its witness statement.
Refusing to do this, he said is an affront to justice and not in accordance with the rules of the court.
"What is being put before you now is not only an affront to justice but is not in accordance with the rules of this court, and we respectfully submit that it must not be countenanced by this court," Mr Tsikata said on Tuesday.
He argued that once the first respondent has already filed its witness statement and other supporting affidavit in response to the petitioner, it has indicated its readiness to be cross examined.
"By filing its witness statement, the first respondent (Electoral Commission) has clearly crossed the bridge as far as opening up the witness (Jean Mensa) for cross-examining is concerned," he added.
Asked if the first respondent legal team is not at liberty to change their mind, he said in the context of the election petition hearing it was pertinent for the EC Chairperson to testify since she is at the heart of the entire case.
But should the respondent legal team insist on towing this path, Mr Tsikata said it must make its intentions of officially withdrawing its witness statement clear.
"The EC should be openly put to this court and the court may have the power to disallow this change. She has made representations to this court and other parties in this case.
"She has made her representations in all affidavits filed and she cannot now resign from those representations unless there is good reason," Mr. Tsikata reiterated.
He added that once the EC officially communicates its decision with respect to not calling witnesses to the court, the legal team would also, as the next line of action file a subpoena.
A subpoena is an order made by a court at the request of a party that requires the recipient (Electoral Commission) to either produce documents, give evidence or testify.
Meanwhile, the Supreme Court has set February 11, to rule on the matter.