NPP candidate for Ajumako donates over 2,600 maths sets to BECE candidates
The NPP parliamentary candidate for Ajumako Enyan Essiam Constituency, Dr Rashid Kwesi Etuaful, has stepped up philanthropic work to benefit his constituents.
As final years in junior high schools sit for their final set of tests, Dr Etuaful has gifted over 2,600 mathematical sets and 2,600 hand sanitisers to BECE candidates in his constituency.
Ahead of the exams, he visited basic schools within the Constituency in the Central Region to motivate the students.
Having schooled in the constituency for his basic education, the parliamentary candidate proceeded to the Kwame Nkrumah University of Science and Technology (KNUST) for his undergraduate and graduate degrees, and later obtained a PhD specialising in water supply and environmental sanitation.
Using his trajectory as a testimony, Dr Etuaful, challenged the students to also aspire for greater heights.
He entreated the candidates to refrain from malpractices and embrace the future of opportunities such as the Free SHS implemented by the Akufo-Addo government.
"Education is the bedrock of every nation and it has been my utmost concern ever since I decided to lead the good people of the Ajumako Enyan Essiam Constituency," he emphasised.
500 persons benefit from free artisanal training
As part of the interventions for constituents, hundreds of the youth were taken through practical training sessions in cake/pastries baking, soap making, T-shirt printing, sanitizer making and make-ups.
The exercise, sponsored by Dr Etuaful, will be held every weekend for different groups till the end of the year.
To help participants who have completed to execute orders for income, an oven, gas and culinary equipment have been provided for the community for use by individuals in need of tools.
"An industrial revolution will commence in the Ajumako Enyan Essiam Constituency and its start with skills acquisition. That is why I have committed to equipping the youth with skills to drive that agenda in the nearest future," he explained.
Screening for 1500 constituents
Also on the same day, a medical team assembled by Dr Rashid undertook free health screening for people in the constituency.
About 1500 persons were examined by the team of doctors and nurses.
Those who needed primary care were given the necessary assistance and major health cases that were detected received referrals.
The medical activities for the exercise included malaria test, blood pressure, blood glucose, hypertension, eye examination, urine test and a health talk with an emphasis on the COVID-19 pandemic.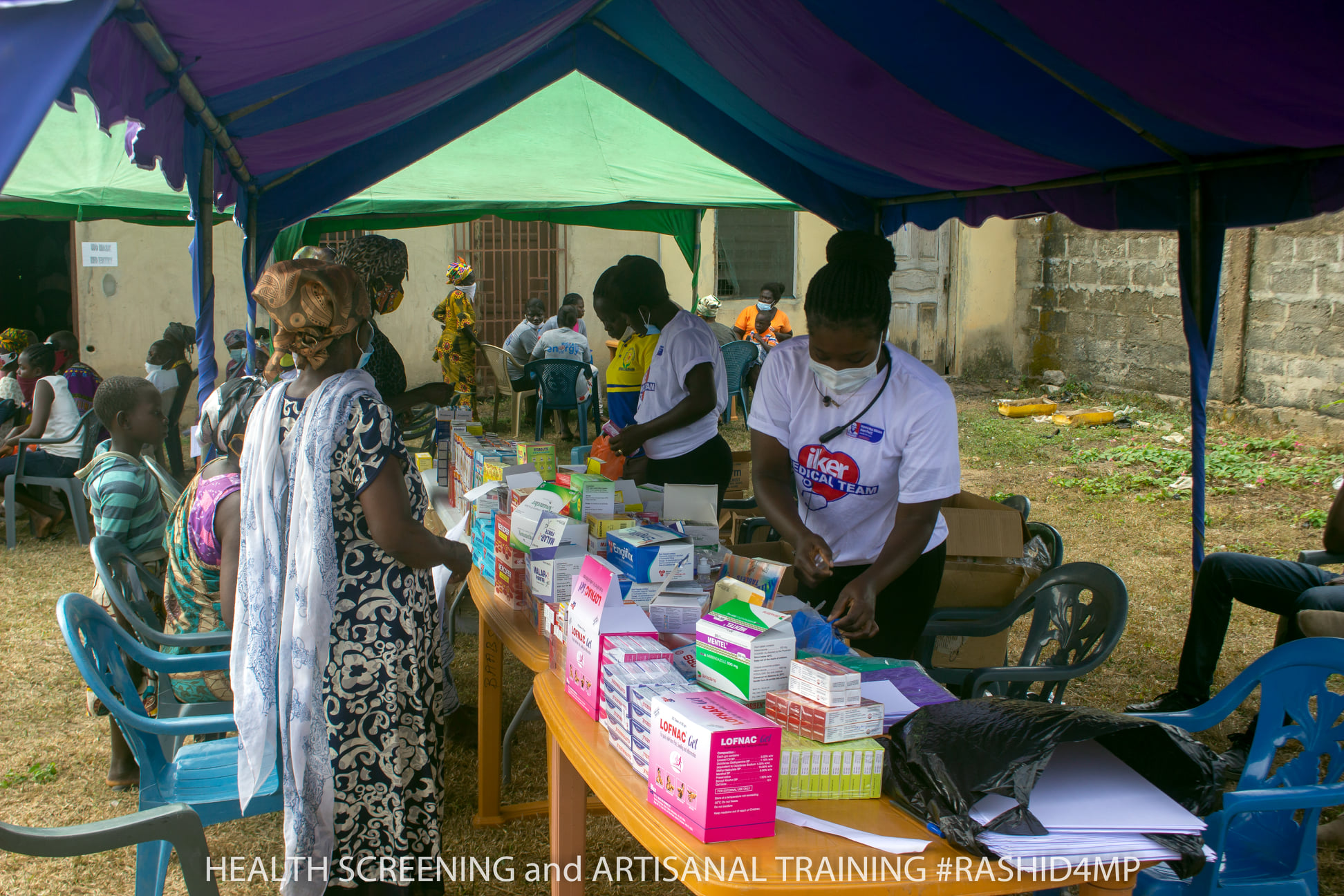 Dr Etuaful renewed the NHIS subscription for 300 people in the area.
'Let There Be Light Project'
In the beginning of the year, Dr Etuaful rolled out an initiative to provide lighting along the principal streets of the Ajumako Enyan Essiam Constituency.
It started with a donation of 40 streetlights to the Ajumako campus of the University of Education, Winneba, as part of a 400 LED streetlights and 4,000 bulbs project dubbed 'Let There Be Light'.