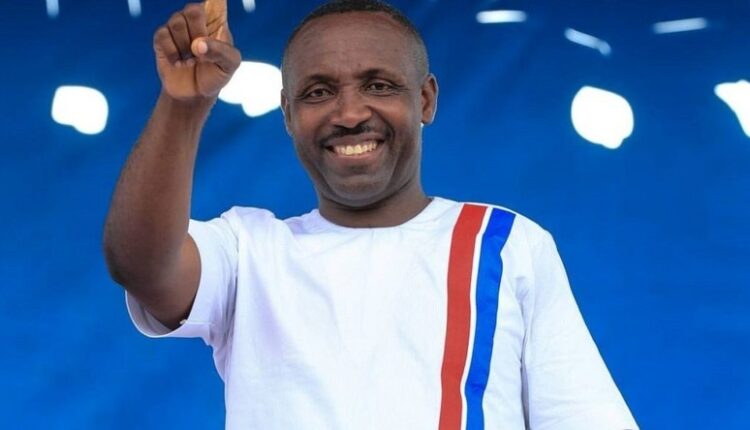 NPP in unassailable lead in presidential elections, have majority in Parliament- John Boadu
The New Patriotic Party says it is poised to win the 2020 presidential and parliamentary elections.
The party's General Secretary, John Boadu, told a press conference at 3 am that the NPP had taken an unassailable lead in the millions of vote cast on Monday.
According to him, President Nana Akufo-Addo obtained 6, 085, 708, votes, representing 52.72%.   against former President Mahama's 5,308,033, representing 45.93%
The results are from pink sheet collated from 34,040 polling stations nationwide as of at 2:15 am. The EC opened 38,933 polling stations for this election.
When the NDC addressed it press conference on Monday, it focused had been the inroads it made in the parliamentary elections.
Mr Boadu offered an explanation saying "it is because they know that it is their biggest flop of all. They know that they have lost the presidential election. That is why they are running away from the figures."
He said there was no way the NDC candidate could overturn the result.
"With just 4,893 polling stations to go and Nana Akufo-Addo leading John Mahama by 777, 675 votes, it will take much more than the usual propaganda to flip this," he said.
While the NDC touted its performance in the parliamentary election, Mr Boadu maintained that the country's largest opposition was on a victory lap in the wrong track.
"It is obvious that from the results declared in all constituencies across the country, the NPP will still maintain a majority in Parliament. The NPP won 63 seats above what the NPP had in 2016 as such, it is surprising that the NDC is insisting on a flip of seats. They do not mention the many seats they had flopped," he said.
He took to taunting Mr Mahama for losing seats in his home region—Savannah Region, where he said the NPP now controlled four out of seven seats –Damongo, Daboya and Salaga North.
He listed seats including Yagaba-Kubori, Yunyoo, Chereponi in the North East adding that the NDC also crumbled in the Northern Region where he claimed the NPP now had flipped NDC strongholds— Karaga, Tatale, Zabzugu.
"We now control three regions out of the five regions of the country. The NDC lost in Upper West Akim in the Eastern Region for the first time. The icing on the cake is the historic NDC flop in the Volta Region. The NPP is registering for the first time a seat in the Volta Region in the Hohoe constituency."