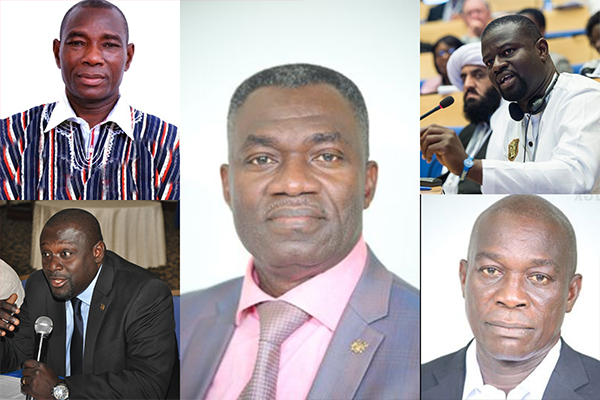 NPP Primaries: Here are the five hot spots police are keeping an eye on
The Eastern Regional Police Command says it has identified five flashpoints ahead of the New Patriotic Party (NPP) Parliamentary Primaries on Saturday.
The police intend to put watchful eyes on New Juaben South, Akim Oda, Kade, Nsawam Adoagyiri and Nkawkaw where tensions are high.
The Eastern Regional Police Commander, ACP/Mr George Alex Mensah, said the police was putting in place pragmatic measures to curtail trouble in these five constituencies.
He said each electoral area where the NPP delegates would be voting would have two police officers.
Additionally, patrol vehicles will be on the move in all the constituencies to maintain peace, and deal with persons who may foment trouble.
The Eastern Region has 37 constituencies with 27 of them in the NPP fold while the rest are under the main opposition National Democratic Congress.  The NPP has already elected its candidates for constituencies held by the NDC.
It is now the turn for the seats where it already controls.
The selection of candidates where the party has incumbent MPs was originally scheduled for April 25, but was postponed because of the covid-19 scourge.
In the contest in which 102 NPP MPs face an internal referendum on their performance, 67 are going unopposed.
In the Eastern Region, 12 NPP MPs are going unopposed in the primaries but need to be acclaimed by their delegates to fulfill the party's constitutional requirements.
Fifteen (15), however, face competition. Five of these contest have been declared hotspots for potential trouble.
The hot spots
Kade
At Kade, incumbent MP, Kwabena Ohemeng-Tinyase faces a strong competition from Eric Ntiri-Mensah, Kofi Ntow Kwaning, Dickson Akwasi Yeboah and Alexander Kwadwo Agyare.
Akim Oda
Akim Oda is a two-horse race between former deputy of Agriculture, William Agyapong Quaitoo, and Alexander Akwasi Acquah, the CEO of The Community Hospitals (TCH) Group.
 Nsawam-Adoagyiri
The sitting Member of Parliament for Adoagyiri Nsawam, Frank Annoh-Dompreh, has to beat Afua Kyerewaa Nyantakyi and David Adu-Tutu Jnr to stand for re-election on December 7.
Nkawkaw
Nkawkaw is also a race fit for the gods as its former Member of Parliament, Seth Adjei Baah, and the incumbent, Eric Kwakye Darfour, who tossed him out of Parliament in 2012 come face-to-face again. Four other candidates also in the race–Joyce Opoku-Boateng, Joseph Frempong, Kwabena Adusa Okerchiri and David Boateng Asante.
New Juaben South
Perhaps the keenest of the contest in the Eastern Region is between the Chairman of Parliament's Finance Committee, Dr Mark Assibey-Yeboah and the Chief Executive of the Free Zones Board, Michael Okyere, who has vowed to unseat the incumbent New Juaben South MP.