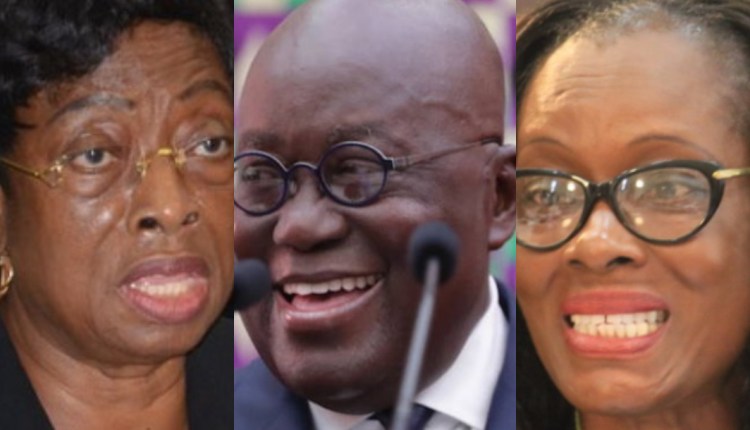 Obiri Boahen explains relationship between President Akufo-Addo and Sophia, Gloria Akufo
Deputy General Secretary of the ruling New Patriotic Party (NPP) Lawyer Nana Obiri Boahen has revealed the relationship between President Akufo-Addo and the Attorney General, Gloria Akufo and the Chief Justice, Sophia Akufo.
According to him, there is a '300-year generational relationship' between President Akufo-Addo, the Attorney General, the Chief Justice and Kwame Akuffo a former National Petroleum Authority (NPA) Board member.
Both Sophia and Gloria, are said to be first cousins of President Akufo-Addo, from Akropong-Akuapim in the Eastern Region. Their mother is from Shai-Osudoku.
Speaking on Okay FM monitored by The Ghana Report, Obiri Boahen explained that Akufo-Addo hails from Akyem Abuakwa which is "Ofori Panin fie" while his paternal cousins the Akufo's hail from "Ofori Kuma fie" which is Akropong.
The opposition NDC in a press conference, yesterday, November 5, said, "Nana Addo has saturated his government with his family and friends, someone like Nana Asante Bediatuo has his sister, brother, father and mother getting an appointment in Nana's government……. Is Nana Addo trying to tell us, there are no other competent Ghanaians to occupy those sensitive positions"? He quizzed.
"Contrary to his campaign promise, President Akufo-Addo has normalized the culture of nepotism in his government. He has given true meaning to nepotism by surrounding himself with a plethora of family members, friends, loved ones including his former lovers all in furtherance of his state-capture agenda."
A charge Nana Obiri Boahen has denied, according to him, there is nothing wrong with the appointment of the President's family "they are very qualified."