Odododiodoo violence: Vanderpuye calls for calm among supporters
The NDC Member of Parliament for the Odododiodoo constituency, Nii Lante Vanderpuye has urged supporters of his party to refrain from any reprisal attacks following last Sunday's violence in the area.
His call comes after a violent clash broke out between his supporters and some members of the governing New Patriotic Party (NPP).
Mr. Vanderpuye said he would not tolerate any act of lawlessness as the party frowns on such acts.
"I am not going to allow any member of my party to take the laws into their own hands and say he is going to retaliate. So, I am using this forum to appeal to all NDC supporters, that if you love John Dramani Mahama, and you love Nii Lante Vanderpuye, and a member of the party, then please do not take the law into your own hands."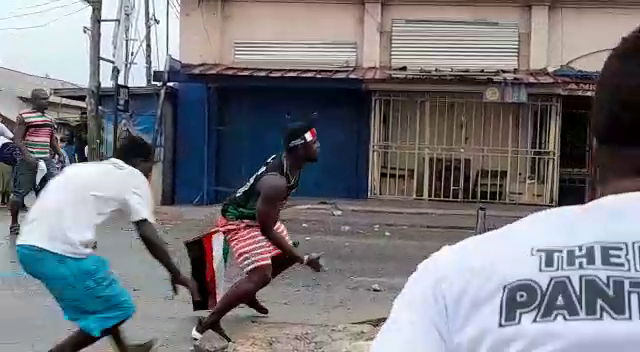 He further revealed that traditional and religious leaders had reached out to him to ensure peace prevails in the area.
The MP who is seeking re-election come December 7, expressed his optimism that the constituents will give him and his party a resounding victory.
"I know that the lord almighty by his mercies and favor, I am winning this election. I will not just win, but I will win with a wide margin. I will continue to be a member of parliament for Odododiodoo. For all the people of Odododiodoo, not just NDC supporters because we have only one Ododdiodoo," he said.
Over the years, the Odododiodoo constituency has been identified as one of the hotspots in the Greater Accra Region.
The constituency is notorious for electoral related violence.
The latest violence which happened on October 25, 2020, happened when supporters of the main political parties clashed during a health walk organized by the NDC.
The melee left at least fifteen persons with various degrees of injuries.
Gunshots were fired during the bloody clash.
Meanwhile, the Accra Regional Police Command has arrested two persons over their involvement in the Odododiodoo constituency violence.
The two, according to the police, were part of those who were seen pelting stones and bottles in videos that went viral on social media.
Addressing the press, the Public Relations Officer of the Accra Regional Police Command, DSP Effia Tenge indicated that the gentleman captured firing shots in the videos has been invited by the police through his lawyer.
"The two were involved. We were identifying some people as we watch the videos that are being circulated. The two were also part of the violence that took place," she said.