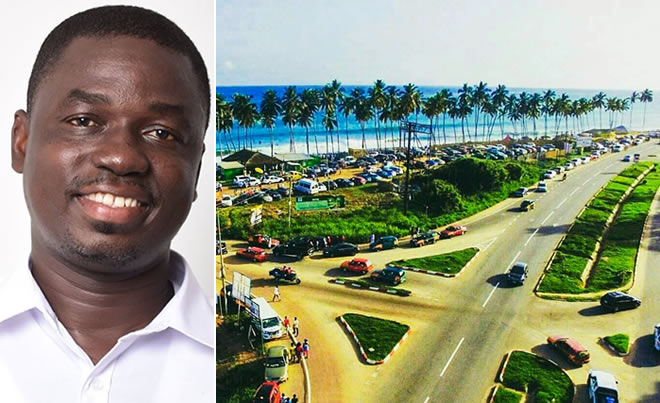 Oguaa Fisherman writes: Cape Coast deserves better
In the recent history of Cape Coast, Prof. John Evans Atta Mills stands out as one individual who's made very significant change as far as modern infrastructure is concerned.
He was very instrumental in the building of the Cape Coast Sports Stadium, the Kotokuraba Market and now the Atta Mills Presidential Library, an edifice built in his name (even though, it's a white elephant now).
The city can boast of many political actors who have held very big positions in the country and beyond, positions of influence that could have helped Cape Coast many streets ahead of its peers, but there appear no traces of what essentially, they did in pushing the frontiers of the ancient city.
All they know are big talks. They talk big and that's all their influences have been as far as where they come from and the development of Cape Coast is concerned.
They only invest and build companies and mansions elsewhere and when they come home, they expect to see changes in their hometown. They have boasted and are still boasting about where they come from but nothing significant has been contributed to the development of the place. Even when they find themselves in government, certain decisions they made remain unfavorable for the city they come from.
We were told of a Marine City Drive Project that would have ultimately contributed a lot to the tourism development of Cape Coast but that project, we are told has been taken to Accra and the people are there; they cutting whiskey and chewing sardines.
What I can vividly recollect in recent times and can't stop being proud of is an investment the former Central Regional Chairman of the NDC, Bernard Allotey Jacobs has done. A huge investment, The Oguaa Apartment, that has employed some youth in Cape Coast.
My question is, so, if others who come from Cape Coast and talk big English in Ghana are to contribute something small to develop Cape Coast, wouldn't we have a mighty Cape Coast?
When you get to the KEEA where Dr. Papa Kwesi Nduom comes from, you can see visible evidence of the presence of a prominent individual. He's contributed to the transformation of the place. What about Cape Coast?
It is not only the political actors but others who have made very huge strides in the country and are big men and women of no cheap repute in the Ghanaian society now but sadly, they expect their city to develop without they contributing to the development of it.
Big English and living large is killing my people! Who do they expect to build the factories and others for the youth to get jobs to do? The people who have made it and should contribute towards where they come from want other persons who do not come from the place to do so.
Now that some youths are craving for an international airport in Cape Coast, the talk shop will begin. They will still be drumming the past glories of Cape Coast and expect everyone to fall in line even when the hopes are fanciful.
Airport is good, after all, who wouldn't want to fly directly from Cape Coast straight to the London Bridge in the United Kingdom?! Talking big is good but such talks should be in sync with the realities on the ground.
We don't need mere promises but some things of real significance that can empower the people here. Cape Coast deserves better but it starts with the change of our mindsets! Let's stop basing our arguments on past glories; they have never helped Cape Coast.