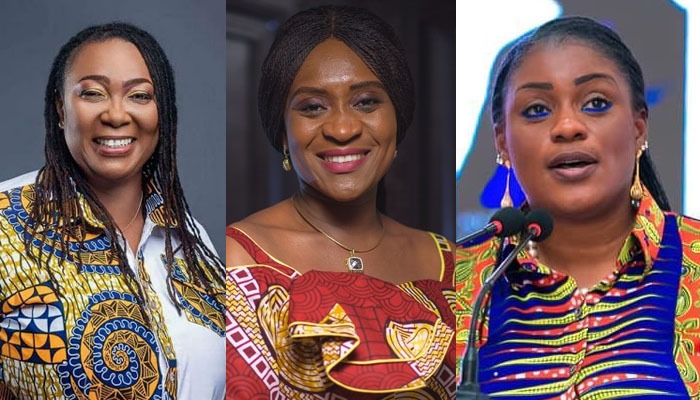 Only 25% of Akufo-Addo's deputy ministerial list are females
President Akufo-Addo has nominated 10 women for deputy ministerial positions in the latest list of 39 presented to parliament for approval.
A release signed by the Acting Director of Communications at the Office of the President, Eugene Arhin, contained the list of the team for Akufo-Addo's new-look government.
It comprises of five old hands who served under the first Akufo-Addo administration.
Five new deputy ministers have also gained nominations.
The female nominees are Nana Dokua Asiamah Adjei [Trade and Industry], Abena Osei-Asare [Finance], Diana Asonaba Dapaah [Office of Attorney General & Ministry of Justice], Gifty Twum-Ampofo [Education], and Tina Gifty Mensah [Health].
The others are Mavis Nkansah-Boadu [Roads & Highways], Naana Eyiah Quansah [Interior], Ama Pomaa Boateng [Communications & Digitalisation], Lariba Zuweira Abudu [Gender, Children & Social Protection], and Fatimatu Abubakar [Information].
MP for Atiwa East Abena Osei-Asare, and MP for Weija Tina Mensah have maintained their portfolios at the Ministry of Finance and the Ministry of Health.
Likewise, Gifty Twum-Ampofo is expected to remain as a deputy minister of Education.
However, MP for Akuapem North Nana Dokua Asiamah Adjei, has been assigned as a deputy at the Ministry of Trade.
Naana Eyiah Quansah, a former Deputy Minister for Lands and Natural Resources, will now serve as deputy Minister for the Interior.
Mavis Nkansah-Boadu, Lariba Zuweira Abudu, Diana Asonaba Dapaah, Ama Pomah, and Fatimatu Abubakar are the new faces expected to complement the list.
Out of the 10 female nominees, seven are MPs.
There were 20 MPs voted into parliament from the NPP, with four MPs sworn as substantive ministers.
The list is reflected in the small number of women in parliament from which President Akufo-Addo was supposed to appoint a majority of ministers.
Low representation of women in politics
Even though more women are gaining an interest in politics, they are disproportionately represented compared to their male counterparts.
Ghana's 2020 election made history by electing the highest number of women in the Fourth Republican history.
An analysis by theghanareport.com shows that out of the almost 2,000 candidates elected to Ghana's Parliament since the return to constitutional governance in 1992, only 134 are women.
It is a statistic that raises serious questions about the politics of inclusion, especially when women constitute more than 50% of Ghana's population.