Over 100,000 jobs lost due to COVID-19 – BoG
The COVID-19 pandemic has rendered at least 100,000 people jobless in the private sector, Head of Research of the Bank of Ghana (BoG), Mr. Philip Abradu-Otoo, has revealed.
Using Social Security and National Insurance Trust (SSNIT) contributions by private sector firms as a gauge, Mr Abradu-Otoo told the theghanareport.com that the impact could be more.
"Between March and May, the number of employees of whom the private sector reports to SSNIT as being on their pay roll has declined by 100,000 roughly," he stated.
In the Real Sector Report by the BoG for July 2020, the number of employees in the private whose firms paid their SSNIT contributions exceeded 800,000 as at February 2020.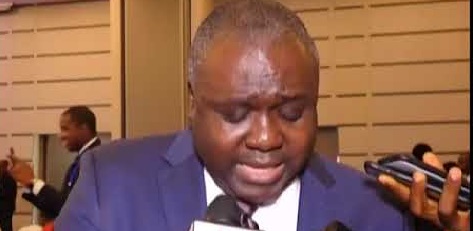 However, it declined to about 700 at that time COVID-19 struck Ghana and further dropped to at least a two-year low during the post-COVID-19 period to record about 600 as at May.
Ghana recorded its first case of COVID-19 on March 12. Three days later, President Nana Akufo-Addo banned all public gatherings, including conferences, workshops, funerals, festivals, political rallies, church activities, and other related events to reduce the spread of COVID-19 at a press briefing on the state of COVID-19 on March 15.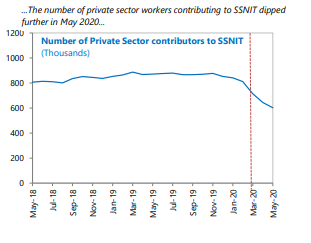 Basic schools, Senior High Schools (SHSs) and universities, both public and private, were also closed.
Subsequently, all beaches were closed and all borders – land, sea, and air were closed.
On March 30, a partial lockdown of Accra, Kumasi, Tema and some other areas were initiated to contain the spread.
The spread of the contagion halted the production and operations of several companies, leading to the loss of jobs, slash in salaries, and increased economic challenges.
Mr Abradu-Otoo explained that even though SSNIT contributions may not represent exact figures in job losses, it is a proxy that gives an indication of the situation on the ground.
He indicated that it was very possible that all companies in the private sector will not adhere to the payment of SSNIT contributions hence unemployment figures could be more.
He explained that advanced countries measure unemployment numbers by tracking the number of people who make unemployment benefits claims.
However, because such arrangements are not available in Ghana, the BoG uses the SSNIT contributions to determine the number of people on the payroll of private companies.
Mr Abradu-Otoo was concerned that SSNIT contributions impacted hugely on the Real Composite Index of Economic Activity (CIEA) of −10.6 recorded for May 2020. The CIEA index is a composite of several indexes, which reflect business activity and growth of the economy.
"There were a lot of people working in hotels who had lost their jobs because of this pandemic so it is real. I know factories that have asked their people to go and stay home and come back when the situation improves," he noted.
Mr Abradu-Otoo observed that some companies had taken some of their employees off salaries to "avoid paying SNNIT contributions".
This because the companies find it unwise to continue paying SSNIT contributions when they are not working and production had halted or declined.
They are paying some allowances in anticipation that they would call them back when the situation improves, he added
TUC estimates 500,000 job losses
The BoG figure confirms the information released by the Trades Union Congress (TUC) to theghanareport.com which estimated as many as 100,000 lost jobs in the formal sector and 400,000 being wiped off in the informal sector after an evaluation of the market.
"We estimate about half a million people who have lost their jobs and livelihoods," Dr Kwabena Nyarko Otoo, the TUC Chief Economist and Director of the Labour Research and Policy Institute, revealed in an exclusive interview.
The contagion has hit all sectors including health, education, tourism, agriculture, entertainment, hospitality and major services.
GSS estimates over 41,000 workers being laid off
Similarly, the Ghana Statistical Service (GSS) reported over 41,000 job losses in its Business Tracker Survey.
The figure represents 4% of the workforce of 4,311 firms involved in the survey from May 26 to June 27, 2020.
"Only 4.0% of firms indicate that they have laid-off workers, corresponding to 1.4% of the workforce (an estimated 41,952 workers).
"Also, 46.1% of business establishments reported that they reduced wages for 25.7% of the workforce (an estimated 770,124 workers)," the report said.