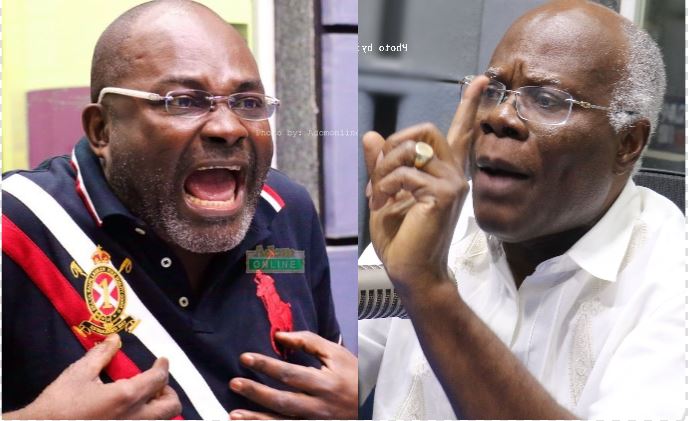 Parliament: The 'rubble-rousers' who became peacemakers on January 7
When Ghana's Parliament turned chaotic on January 7, it had two of the unlikeliest people wearing the peacemakers' badge—the Assin Central Member of Parliament, Kennedy Agyapong and K.T. Hammond of Adansi Asokwa.
The two have been involved in almost every controversy imaginable including the former courting the wrath of the Privileges Committee.
Mr Agyapong is known for his 'no-hold-back' political commentary –which are sometimes vile and what his peers describe as unparliamentary.
Ken Agyapong & K.T Hammond diary of controversies
He's is a tall list of troubles in and out of parliament.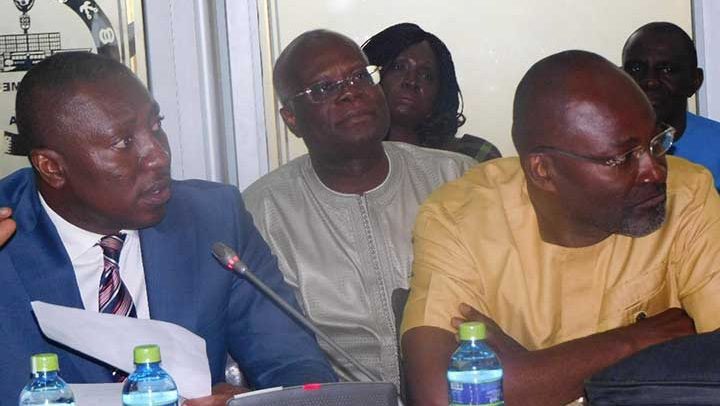 In June 2018, Mr Agyapong was dragged before the Privileges Committee of Parliament over his purported contemptuous utterances against the House and the Majority Leader, Osei Kyei-Mensah-Bonsu.
The First Deputy Speaker of Parliament, Joseph Osei-Owusu, referred Mr Agyapong to the Privileges Committee following a motion moved by Alhaji Mohammed Muntaka Mubarak, the then Minority Chief Whip.
Ahaji Muntaka said he had an audio and video in which Mr Agyapong referred to the House as a cheap and useless assembly.
When he appeared before the committee, he apologised but the committee recommended his suspension.
Notorious for his silence on the floor of Parliament, the Assin Central MP often found his voice on his Madina-based radio and television stations where he throws verbal missiles at his political opponents and his critics.
A media darling in the past because of his hard-hitting soundbites filled with vituperate language, he was at a point blacklisted by media houses as the media courted threats of defamation suits.
Suale's death 
Out of Parliament, in September 2018, Mr Agyapong circulated photos of undercover journalist Ahmed Hussein-Suale, asking viewers to attack him. Suale was later shot dead by unidentified men on motorbikes four months later.
Agyapong defended circulating the photos. However, after the death of the investigative journalist, he told the BBC that he regretted the journalist's death, but had a clear conscience about unmasking him as he felt he was about to be set up by the Tiger Eye journalist.
Police believe Mr Hussein-Suale was murdered earlier on January 17, 2019, because of his work. He had been a member of Tiger Eye Private Investigations, run by journalist Anas Aremeyaw Anas, and had investigated corruption in Ghana's football leagues in 2018.
After the scandal broke, Mr Agyapong went on television to reveal Mr Hussein-Suale's identity and had called for people to beat him up.
Kweku Baako's defamation 
On July 26, 2020, the Editor-in-Chief of the New Crusading Guide newspaper, Abdul Malik Kweku Baako Jnr, won a defamatory suit against Mr Agyapong.
The vociferous MP accused Mr Baako of being neck-deep in illegal mining activities, popularly known as galamsey.
He further dared Mr Baako to take legal action against him.
Mr. Baako considered the comments of the MP as defamatory and subsequently dragged him to court.
The Accra High Court on Friday, June 26, 2020, ruled in favour of Mr Baako.
The Assin Central MP was slapped with GHC100,000 in damages and GHC30,000 as cost of legal expenses.
In addition, Mr Agyapong was also given 30 days to retract and apologise three times on the platforms he used to defame Mr Baako.
In October 2018, Mr Baako sued the Assin Central legislator again for defamation.
Kweku Baako sought reliefs, including general damages in the sum of GH₵25million against Mr Agyapong.
The MP appealed the court decision.
Respected investigative journalist, Anas Aremeyaw Anas also has a legal action against the lawmaker.
Ato Forson's suit
In October 2018, the Member of Parliament for Ajumako -Enyan-Esiam, Cassiel Ato Forson, dragged his peer to court over allegations of assassination.
Mr Ato Forson wanted the Assin Central MP to explain to the court how he is connected to the alleged assassination plot against the Minister for Gender, Children and Social Protection, Cynthia Mamle Morrison.
This comes after Mr Agyapong had alleged that the Ajumako -Enyan-Esiam legislator contracted people to kill the Gender Minister.
He also declared war on what he described as fake pastors.
Judge's contempt case
His latest debacle came after Mr Agyapong antagonised a High Court judge over a decision that went against him.
The Assin Central MP was summoned by the Judge, Amos Wuntah Wuni, after he was seen in a video insulting another judge over a land case still before the court.
"You are a stupid judge. I will face you," Mr. Agyapong said on his TV station Net2 in September.
He stressed, "I am not Anas to take bribe from you. I will deal with you."
After a dramatic back and forth, he ran to the Supreme Court asking the apex court if he could be punished for his utterance.
The Supreme Court ordered the removal of Justice Wuni on the case also quashed the proceedings while asking the Registrar of the court to assign another judge.
K.T Hammond 
In the case of K.T Hammond, his resume of troubles is exhaustive and on the floor of Parliament, he is one of the respected voices on energy.
Here are a few of his moments of infamy.
Burning down parliament
In October last year when it came to light that the Ministry of Education was considering incorporating Comprehensive Sexuality Education (CSE) into the basic school curriculum, he threatened that Parliament House will be set ablaze should the government force the controversial content into schools.
The former Deputy Minister of Energy believed the Minister of Education, Matthew Opoku Prempeh was "too sane" to champion such a "useless and evil course" in this "Godly country".
Military deployment 
Again, in June 2020, he courted anger among a section of the public concerning military deployment in the Volta Region.
In a viral video, he explained the military presence in the Volta Region was to "make sure that you vote if you are a Ghanaian."
"They are not electoral officers but they are a peace-keeping force," he said.
K.T Hammond further explained that election results have been severely impacted by Togolese.
"The Togolese and the Voltarians…they are the same tribe but they are not Ghanaians," he said and complained about votes from Ketu South constituency of the Volta region.
"Where did they come from? Everybody from wherever they came to vote. So this is what we want to disallow," he said.
But on the day Parliament defied all its civility, Mr Agyapong and Mr Hammond became peacemakers among lawbreakers.
The opposition Chief Whip, Mohammed Muntaka Mubarak, who said he was no friend of Mr Agyapong particularly, acknowledged the role the two played to prevent the nasty events of January 7 in the House from degenerating.
"I'm thankful to honourable K.T. Hammond and honourable Ken Agyapong for their role on January 7. When I sit back with some of my colleagues, we always say wonders will never end.
"He [Ken] and I have never been friends because I never liked the way he behaves. We will be in groups chatting and laughing, the moment he joins, I leave because I hated his attitude. But for the first time yesterday [January 7], I was shocked that he mustered the courage to approach me, talk to Haruna and other people to find a way out of the crisis. That is the power of talking.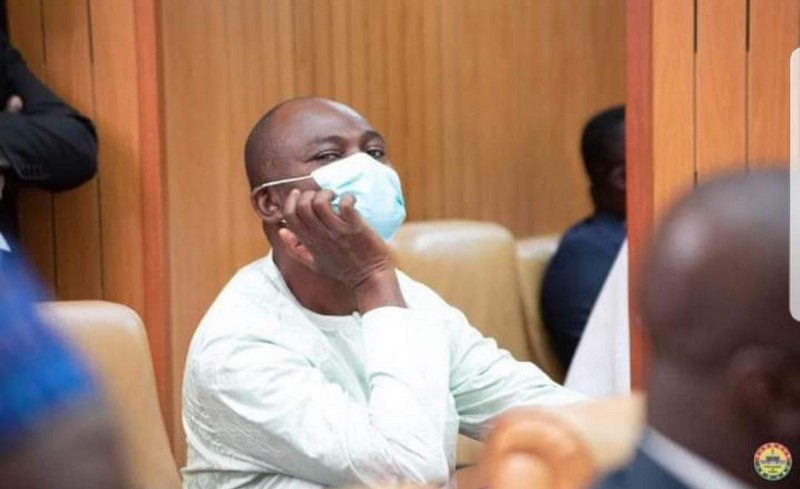 "On the day we were fighting, the two trouble makers rather became the mediators. When people do well, you must commend them, I must laud them for their work in keeping tempers calm," he said on Abusua FM.
He said when Ken Agyapong and K.T Hammond realised that the two sides in Parliament failed to meet ahead of the January 7 election to reach a consensus, they immediately urged the leaders to go into talks because without it progress could not be made.
"That is what forced us to go into the conclave room. It was at the conclave that we agreed on the dos and don'ts [of electing the Speaker]. Had it not been what Carlos [Tema west MP] did recklessly towards the end, whatever we agreed on at conclave worked.
The Tema West MP, Carlos Ahenkorah snatched ballot papers and took to his heels before he was grabbed by his colleagues.
A veteran of four-terms, Mr Mubarak said the Leader of Government Business, Osei Kyei-Mensah-Bonsu, although competent had a weakness in human relations.
"If they allow him to be the only person leading the NPP charge in Parliament, they will have problems and they will have defeat upon defeat.