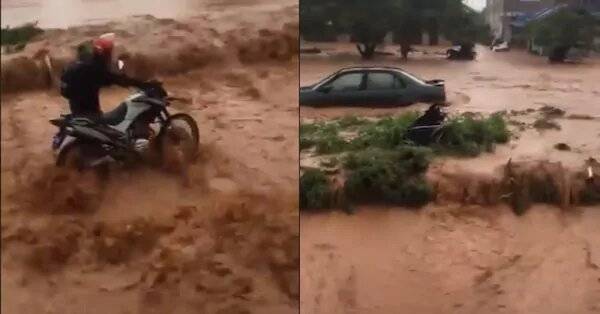 Pay attention to weather warnings – Meteorological agency cautions Ghanaians
The Ghana Meteorological Agency wants Ghanaians to critically pay attention to weather warnings from the agency. 
The caution came after some parts of Accra and Kasoa witnessed flooding following a heavy downpour over the weekend.
According to the Deputy Director of the agency, Joseph Portuphy, two of such rains are expected to usher the country into the dry season.
With scores of communities flooded across Accra, he revealed that the resilience of the city has reduced drastically.
"Currently, if you have 35 millimetres of rains that's if it rains for one hour intensively, some places in Accra will be flooded."
"As we wait for one or two of such rains, we should keep our fingers crossed and listen to weather warnings. And people shouldn't converge and try to go when it starts raining.
"The rains should stop in the first week of November. Because Accra is a low-lying area, all the water from Aburi, Nsawam, Oda must pass through Accra before it enters the sea and that's another challenge," he said in an interview with Starr FM.
He attributed Accra's flooding situation to the poor drainage systems and improper building plans.
"The rains we had in Accra, if it happens in a place like Axim, the place won't get flooded because it will enter the soil but for us in Accra, because of how we've built and our drainage system, it becomes difficult."
Last weekend's rains wreaked havoc in parts of Accra and Kasoa.
Several homes were submerged in floodwaters leaving hundreds of residents displaced.
Properties including cars were also washed away by the floods.
Accra's problem
According to experts, Accra, which is sited on a low-lying area, experiences flooding annually mainly because of the haphazard construction of houses, especially on watercourses, the poor drainage system and a poor waste management challenge that leads to residents turning drains into refuse dumps.
In 2011, floods in the country resulted in the death of more than 30 people nationwide, with 15 victims in Accra, in addition to the destruction of property running into millions of cedis.
Similar incidents were recorded in 1968, 1995,1997, 1999, 2001, 2010, 2013,2014 and the worst in 2015 when a twin-flood and fire disaster killed more than 150 people at the Kwame Nkrumah Circle in Accra.
While almost everybody agrees that the dumping of refuse into drains is part of the problem, opinions are divided over the resolve by the government and the city authorities to demolish buildings on watercourses.
While public opinion is swayed in favour of demolition, there are others who hold the view that the various metropolitan and municipal assemblies in the city are to blame for issuing permits or looking elsewhere while people built haphazardly.