Pay your widow's mite dues to check NDC monecracy – Rawlings
Former President Jerry John Rawlings has decried the monetisation of politics following a 700% increase in the filing fees for National Democratic Congress (NDC) flagbearer aspirants.
Speaking at the 37th anniversary of the 31st December revolution, the founder of the NDC complained, "a few power brokers dictate the direction of the party because of their financial strength".
Mr Rawlings has had to intervene in a controversy over the payment of ¢400,000 as filing fees for presidential aspirants.
The figure was revised to ¢300,000 following the intervention of Jerry Rawlings who chairs the party's Council of Elders.
Eight aspirants for 2020 flagbearer raised questions about how a social democratic party could set "mind-boggling" fees for aspirants.
Only two years ago, flagbearer aspirants paid ¢50,000 to file nomination forms. It is believed the high fees forced at least two aspirants to drop out of the race.
Mr Rawlings who staged Ghana's last coup on 31st December 1981 has commemorated the event with advice to the party to check the influence of money in politics.
His suggestion was that the party revives the payment of dues by all members to justify their membership.
"Unfortunately, we have millions who sympathise with the party but are not prepared to give their widow's mite", he said speaking to the theme for this year's celebration, "Deepening the Core Principles of Good Leadership for Political Governance".
He said the party should make dues payments attractive by finding easy ways for payments, keeping proper records and ensuring accountability.
This, he said, can energise the base which has become "subservient to power brokers"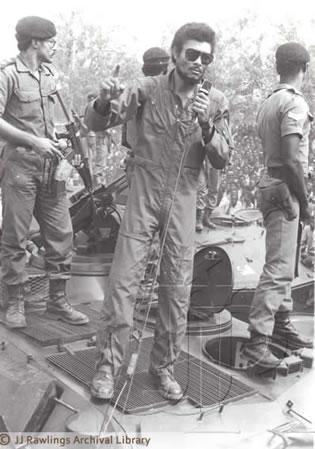 Jerry Rawlings also asked the presidential aspirants to whip up the commitment of party members as they go about their campaigns.
He urged the delegates to keep in mind that "the process should not be how much your candidate can give you but how committed you can be to your party."
The NDC founder repeated his "let's listen to ourselves" advice he gave at the party's annual delegates congress in November.
This time, he said it with more emphasis.
"Let's listen to ourselves, listen to the inner voice, and listen to your conscience. The power belongs to us", he said at Ashaiman Mandela Park in the Greater Accra region.
Seven aspirants have filed their nomination forms to contest in the NDC presidential primaries which is scheduled for January 26, 2019.
They include Second Deputy Speaker of Parliament; Alban Bagbin, former University Vice-Chancellor Joshua Alabi, former Trades Minister; Spio Garbrah.
Considered also-runs are former NHIS boss, Sylvester Mensah, a returnee to the NDC Goosie Tanoh, businessman Nurudeen Iddrisu.
The front-runner, however, is former President John Mahama who led the party to the heaviest defeat in the history of the fourth republic in 2016.
Source: Myjoyonline