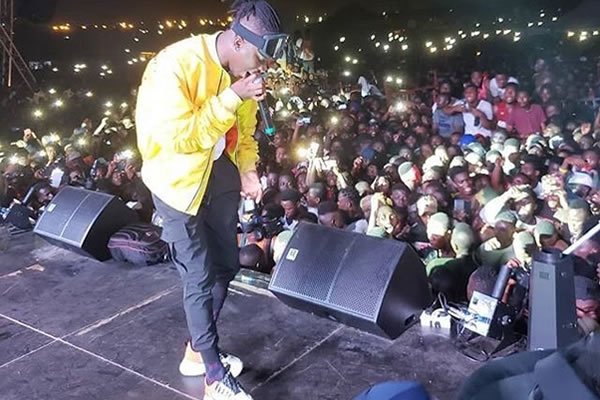 Photos: A review of Stonebwoy's mammoth Ashaiman To The World concert
For five years consistently, I made it a point to be present and counted at every edition of Stonebwoy's flagship concert, Ashaiman To The World and I must say, it gets better every year.
If you've been observing the Ghanaian music scene lately, you'll attest to the fact that this year's own was a crucial assignment regarding the fact that Shatta Wale's 'Reign' album launch had toppled records at the Fantasy Dome and according to the masses, Stonebwoy had to prove his worth now or never! It doesn't even make sense but hey, this is Ghana.
The whole debate about free or paid shows can be discussed later, but for now, let's all bask in the glory of how phenomenal Ashaiman To The World 2018 (#ATTWC18) concert was and savour the great moments it tagged along with.
Attendance
Truth be told, no one can accurately put a figure as to how many people showed up at the Sakasaka Park in Ashaiman but the fact is, the number gets bigger as the years go by.
Another enviable record was set this year and it seems the whole of Ashaiman and the lovers of Stonebwoy really wanted to prove a point. Counting from the number of people on the main park through to the crowd behind the stage, not forgetting those who stood on the sidelines of the motorway to watch as well as those who made the Ashaiman Overhead Bridge their popular stand, you won't be wrong to put the figure at over a 100,000. So to play it safe, let's just enumerate it by saying hundreds of thousands showed up!
Performances
This year's edition of #ATTWC18 kicked off early and I must commend the organizers for stepping up their game with regard to the coordination of performances by both upcoming and mainstream acts.
Up until this year's edition, revellers of this concert had to endure the wrath of the rains amidst the confusion of artistes who eagerly wanted to mount the stage and exhibit their talents to the mammoth crowd.
Among the many acts who showed up were the likes of Agbeshie, Epixode, Sean Taylor, Clemento Suarez and Lawyer Nti, Article Wan, Kwadwo Nkansah Lilwin, D-Cryme, Guru, Donzy, Kofi Kinaata, Okomfo Kwadee, D-Black and his BAM crew, Edem, Kwaw Kese, Sarkodie, Samini, Damaris and a whole lot more who definitely left the fans impressed. I can't review every one of these performances but will try and gist you small.
Epixode really made an impression with his live band performance and that I must say was really refreshing. Clemento Suarez and Lawyer Nti also didn't dull at all. The duo warmed their way into the hearts of the fans with their comical music. Donzy did great on the night and D-Black and his crew also did their thing. Kofi Kinaata and his "Mb3l3de" was on an all-time high and really entertaining.
Kwadwo Nkansah (Lilwin) knows how to make a mark with his musical side and he did justice to that. In wrapping up his performance, dude threw wads of 1 Ghana Cedi notes to the masses and ran off the stage leaving the crowd scattered and tumbling over just to lay hands on the money. Very smart move you'll say but imagine been shoved and dealt with punches, all cuz of 1 Ghana Cedi! Oh Ghana!
One performance I really looked up to but was left disappointed was that of Okomfo Kwadee. One couldn't help but realise that all was definitely not well with the 'Yeko Mmaa Pe' hitmaker. A few minutes after his arrival, he started throwing tantrums about been disrespected and delayed for so long and I couldn't help but ask if he wasn't the one who just arrived at the venue.
He was then called to perform and while leading his entourage to mount the stage, dude just went past the stage and had to be redirected before he climbed up to do his thing. His demeanor was really disturbing. Kwadee would pause his performance and go on and on chanting some inaudible patois and I just don't know how to describe what that was. Sincerely, his handlers are not doing him any good with that kind of attitude. Kwadee really needs a break to set things right.
If you ever doubted Kwaw Kese's status as the "King of Streets" in recent times, then you should reconsider. The streets still recognise him as their own and reciprocated the love he showed them. Guru did great on the night and Edem also treated the fans to great music. Sarkodie is a 'rap god' and that's not even debatable. 'Obidi' didn't disappoint!
I know you're itching to know how Stonebwoy's performance went but the thing is, you don't need to be told. My legs had given up on me and I was really knackered but that didn't stop me from abandoning my seat and pushing my way through the dense crowd for the very last time just to watch his performance.
In spite of the hitches with sound, Stonebwoy nailed it! The highlight of it all was the "father and son" moment when Samini joined him on stage and my oh my… It was a multiple orgasmic moment! Whoa!!! Witnessing Samini and Stonebwoy together on stage is always refreshing and that #SameMotorway freestyle they both did was an epic lituation. It was such a beautiful and overwhelming moment in time.
Sound Quality
One issue that has been worryingly prominent with #ATTWC is the quality of sound. It's about time organisers found a permanent solution to this because considering the number of people who throng to the venue, the sound systems are woefully inadequate. The issue with microphones really takes a lot out of these entertaining performances. It's been five years in a row and patrons deserve better.
DJs and MCs
Pardon my inability to remember the name of the main DJ behind the turntables but hey, you can't blame me. That's what happens when a DJ is wack. Right from the onset, the guy lost it. Of all the countless number of tracks in this country and the world as a whole, this DJ didn't find any suitable to hype the crowd with tracks other than Stonebwoy. Can you imagine??? The very artiste for which reason we had all gathered there ooo… Only the heavens know what that DJ expected Stonebwoy to perform with when his turn finally came. That was so amateurish and unthinkable.
The painful moment was when one of the MCs of the event, King Lagazee came on stage to treat us to some good music; this same DJ disappointed miserably. Obviously, dude is a learner and needs to take his lessons seriously. You can't call yourself a DJ if I can do better than you with just a VLC player and all my inexperience.
There were about four MCs or so but in all, host of Yard Settings on Hitz 103.9FM, King Lagazee really stood tall! You just can't beat the kind of experience and finesse Lagazee brings on board when it comes to shows of this nature. Dr Duncan had a cameo and he nailed it, Joni Blaze tried his best and the rest whom I can't remember and don't even know also tried.
Crowd Control
Controlling a crowd like a type that shows up at the #ATTWC is a herculean task that requires some sort of special wisdom and tact to deal with. Unfortunately, this seems to elude organizers every time. The backstage which was supposed to be organized and not so crowded filled up earlier than expected this year. This made it an uneasy place to be as people kept trooping in much to the dismay of those who were actually supposed to be there. In the midst of such disorder, security will definitely be compromised.
Security & Organization
If there were any "lows" recorded at this year's #ATTWC, that will certainly have everything to do with security. Don't get it twisted; security was really beefed up, more than ever. The actual problem was how these personnel handled situations. The security team was made up of the military, police and some private bouncers and that combination, I must say was a big mistake! It was a sorry sight witnessing these "law enforcers" openly fighting and arguing among themselves all in the name of superiority. A common understanding between these units was the missing "ingredient" that made Nigerian jollof lose to Ghana.
Seems most of the guys who were put in charge of security saw the possession of pepper sprays, tasers, whips, rifles and batons as some form of luxury or an indication of superpowers and decided to brazenly exploit their ignorance in handling such weapons. I was shocked to see policemen using fully loaded AK47 rifles to push people back in line.
Seriously, who does that? While some including "VIPs" were choking on pepper spray, others were also shielding their fragile selves from the shockwaves of tasers and many had to also save their fine faces from receiving unwarranted filthy slaps. Explaining crowd control to Ghanaian security agencies is like preaching salvation to the devil, it's very pathetic. However, many of these instances could have been avoided if proper accreditation was put in place.
It's very disappointing and inexcusably unjustified that a brand like Zylofon Media will "plan and organise" such a huge event and still manage to squeeze in the effrontery of telling many role players of the night that they had run out of Accreditation especially for media personnel and upcoming acts.
Picture this scenario; #ATTWC18 is a biiiiiggg deal security-wise so for Zylofon Media to be this "careless" and leave the fate of media personnel who came to cover the event in the hands of these overzealous security "bouncers" who were itching to try their rusting jungle training experience on many "innocents" is such a big shame.
The annoying part of it all was that whoever was put in charge of that too just couldn't be bothered. Imagine talking your way out of an imminent beating by a soldier who is more than willing to go ninja on you just because you're carrying out a duty and not trespassing.
Never again should something like this happen. When people leave the comfort of their beds to come support such a cause, the least you can do as an organizer is to protect them and not gift them with heckling and unwarranted slaps!
Regardless of the shortcomings, Ashaiman To The World was such an exciting adventure of a concert. Stonebwoy and his team put up a splendid show and one can only look forward to a greater one next year! Well for me, it's been five good years of experiencing this and I have decided to lay down my tools and retire.
Hopefully next year, I'll also observe proceedings of #ATTWC from the comfort of my bed and laptop. I hope my effort to get you acquainted with all the happenings was not in vain but if your insatiable curiosity is still not acquiesced, then come experience it for yourself next time. Till then, let all the lovers of Stonebwoy say BHiM!!!!
source: Myjoyonline