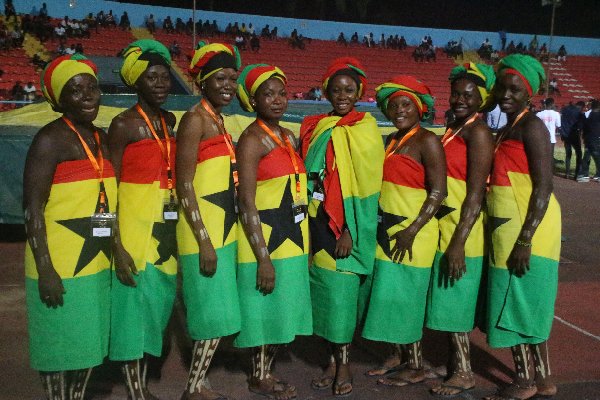 Photos: Ghana's female dance group 'bares it all' in Nigeria
A Ghanaian dance group, Carnival Queens, gave an impressive display of some traditional dances adding a bit of a surprising wow factor,  at the just ended International Festival of the annual Calabar Carnival in Nigeria.
The all-female group just before they ended the performance surprised many when they pulled down their tops unexpectedly and showed their boobs. Standing before the judges for the night, they went through the rest of their dance moves, topless.
The spectators, who did not see it coming, immediately went up in uproar applauding the group as the performance ended. The dancers then curtsied, and pulled their white tubes back up, resulting in protests from the crowd.
The dance, according to the leader of the group, Nana Kwame Dadzie, is a combination of fetish dances. The dances tell the story of the migration of Ghanaians from Egypt, Israel, Ethiopia, Sudan right down to the Gold Coast.
Tale has it that on the journey, when the migrants were thirsty, and could not find water, they called upon the fetish priestesses to come through for them. Grateful for being helped, they danced naked in appreciation to the gods.
They also spiced their performance up by dancing to the instrumental rendition of the late dancehall act, Ebony Reign's 'Hustle', impressing the mostly Nigerian crowd as they did contemporary dances including the  Nigerian originated 'shaku' dance as well as the 'gwaragwara' mixed with some traditional moves.
Ghana was not the only country that 'bared' it all at the Carnivals' International Festival competition. South Africa and Swaziland also displayed their rich cultures in energetic and bold dances, topless.
Tanzania also represented by all an all-female group in all black costumes, served the audience with a healthy dose of eye-popping visuals as they wound their waists through their presentation.
They lay on the floor winding, some twisted in a split position while others twisted bending at certain points of the presentation. The crowd was frenzy. By the end of the performance, half of the press could be seen lying flat on the floor, in their bid to get good pictures and videos.
Arguably the biggest street carnival in Africa, Nigeria's Calabar Carnival brings about 50 international countries together to entertain as they compete for an ultimate prize.
The carnival held in the Cross River State has run for about 15 years and has become a magnet attracting tourists and Nigeria's in the diaspora to participate in the fun and rich display of culture.
Source: Myjoyonline