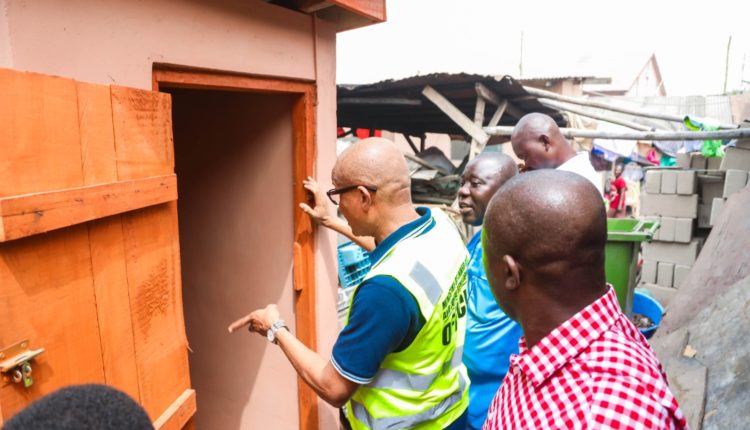 Photos: Ministry builds 252 household toilets for inner city communities
Minister for Inner City and Zongo Development, Dr Mustapha Abdul-Hamid, has helped to build over 200 household toilets for inner city communities in Accra.
The 252 household toilets, within the inner cities include but are not limited to Mudor, Ayalolo, Korle Gonno, Mamprobi, Agbogbloshie, Bukom, Osu Anorhor, Chorkor, Okpongobu and Kokompe.
The ministry in a statement signed by the Public Relations Officer, Ahmed Ayuba, said the project was undertaken under the Greater Accra Metropolitan Assembly Sanitation and Water project (GAMA-SWP) and supported by the World Bank and the Government of Ghana.
According to the ministry, the project, which started in January this year, is meant to end open defecation, especially along the beaches of Accra.
The Ministry's statement comes after a viral photo showed the sector minister, together with other AMA officials, commissioning just one-seater household toilet in Accra.
The post also held the view that the commissioning was done amidst a large crowd without regard for the COVID-19 safety protocols.
But the ministry has explained that the photo trending on social media shows just one picture out of the lot and the project started early this year.
The ministry has therefore advised the general public to disregard such mischievous publication.
Giving a detailed report of the source of funding for the project, the ministry said "Under this project, the World Bank provided 70% of the cost of one household toilet. Residents of the households were supposed to provide the remaining 30%. However, many households were unable to find the money to complement the World Bank's support.
"The MICZD stepped in to provide the 30% funding that enabled these households to have toilets in their houses. Indeed, the effort of the MICZD adds to the 27,000 household toilets that have so far been built in the communities of Асcra," excerpts of the statement available to theghanareport.com read.
Below are some photos from the event.