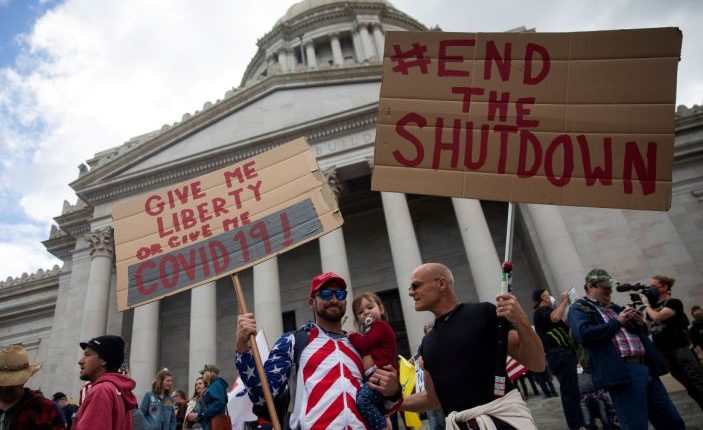 PHOTOS: US protests demand end to coronavirus lockdown
Protesters across the US took to the streets at the weekend to demand an end to lockdown measures to combat the coronavirus.
Inspired by President Donald Trump, who controversially urged supporters to "liberate" their own states, hundreds carried placards and flags through cities. Some protesters were armed with rifles.
State governors eager to rescue their economies and feeling the pressure from Trump are moving to ease restrictions, even as experts warn that doing so too quickly could prove disastrous.
Trump, whose administration waited months to bolster stockpiles of key medical supplies and equipment, appears to be on the side of the protesters.
He tweeted, "LIBERATE MINNESOTA!", "LIBERATE MICHIGAN!" and "LIBERATE VIRGINIA," in a thread in which he also lashed out at New York governor Andrew Cuomo for criticising the federal response.
During his Saturday briefing at the White House, Trump said Montana will begin lifting restrictions on Friday, with Ohio, North Dakota and Idaho advising non-essential businesses to prepare for reopening from May 1.
In Texas, several hundred people rallied in the capital, Austin, chanting "Let us work".
Many demanded an immediate lifting of restrictions in a state where more than one million people have filed for unemployment since the crisis began.
In Indianapolis, more than 200 people stood close together outside the governor's mansion, carrying American flags and signs demanding restrictions are lifted.
Elsewhere, a few hundred demonstrators waved signs outside the Statehouse in Concord, New Hampshire, which has had nearly 1,300 cases of the virus and more than three dozen deaths.
One of the protesters, talkshow host Ian Freeman, said: "Even if the virus were 10 times as dangerous as it is, I still wouldn't stay inside my home. I'd rather take the risk and be a free person."