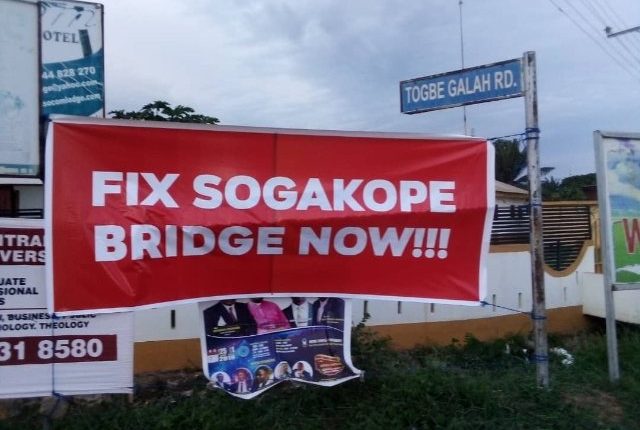 A group has called off its intended protest over the worsening state of the Lower Volta Bridge at Sogakope, in the South Tongu District of the Volta Region.
The decision to postpone the #FixTheLowerVoltaBridgeNow march, follows a meeting between the organisers and authorities on Tuesday, September 24 where it was agreed that there was the need for an immediate intervention to fill the road surfaces that have caused of accidents.
The meeting was attended by the Volta Regional Minister, Dr. Archibald Yao Letsa; DCE for South Tongu, Emmanuel Agammah, Director of Bridges at the Ghana Highway Authority (GHA), Yaqub Koray and his team and the organisers represented by George Kwesi Asafo, Yao Amekor, Kanghla Blasu, Joe Kove-Yaw and Gladys Afetsi.
Volta Regional Minister, Dr Archibald Letsa (4th from right) with organisers of the march
"Yesterday [Tuesday], a delegation of five met with the Regional Minister in his office at the instance of the DCE. Present at the meeting among others were the Regional Director of Highways and the National Director of Bridges. Discussions were in a cordial atmosphere.
"We all agreed there was a need for an immediate intervention to fill the road surfaces which are the cause of accidents.  Work will start on October 1, to fill the bad surfaces. In view of this commitment, we stand down the peaceful march. The Peaceful March scheduled to hold on Thursday, September 26, 2019, is hereby called off and put on hold," a member of the concerned youth told JoyNews, Wednesday.
The Lower Volta Bridge, also known as Sogakope Bridge constructed between January 1965 and January 1967, is a 650-metre long bridge on the N1 highway (Aflao — Accra) that connects Sogakope to Sokpoe over the Volta River.
Residents blamed its deteriorating state for the needless deaths recorded on it. They say at least five people died in crashes on the 52-year-old bridge in the last 18 months, following the failure by authorities to repair the rusting expansion and contraction joints.
During the engagement, it was revealed that the fixing of the problem on the bridge had been awarded as a contract in December 2018 and expired in August 2019.
Mr Yaqub Koray indicated that the contractor requested more time although the GHA was evaluating other alternatives, adding that by the end of the following week, a decision would be arrived at.
He assured the campaigners that a temporary measure of covering/filling the expansion joints with bitumen would take place from Tuesday, October 1 to Thursday, October 10, 2019.
Dr Archibald Letsa entreated the leaders to embark on an education drive of motorcycle users in the area on the need to be extra careful when using the bridge to forestall further accidents.
Meanwhile, the organisers told Voltaonlinegh that "if the agreement to fix the bridge on the said date is breached, we will communicate to you our next line of action which will definitely be the March."