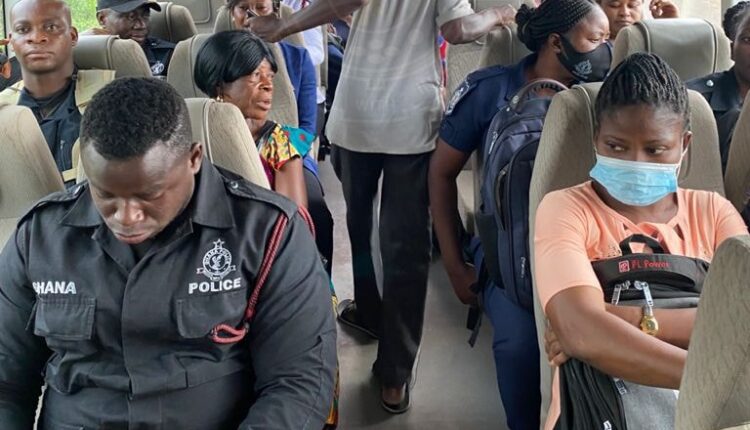 Police begins shuttle services for its officials
The Ghana Police Service has introduced shuttle services for its personnel across the country.
This is to facilitate the movement of personnel from their residence to their various duty points.
A statement from the administration explained that the program which is being run in 15 out of the 18 police operational regions is intended to ease the burden of commute on officers, as well as ensure personnel who carry weapons do so under safe conditions.
It added that the buses have been stationed at designated routes with pick-up and drop-off points to ensure a smooth transitioning, especially during rush hours.
The administration noted that the spectacle of uniformed officers struggling to board public transports with weapons and the possible dangers to other occupants is among the reasons for the shuttle service.
It is certain the shuttle service will reduce these concerns and ensure that both the police officers and the commuting public go about their duties in safety and dignity.
It is also expected to give some respect to officers and further boost their morale for enhanced performance.
This introduction comes on the back of another — the deployment of equestrian police officers whose usage is expected to minimise the reliance on automobiles in bigger cities.
New Inspector-General of Police (IGP), Dr George Akuffo Dampare, on 12 August, launched the Horse Patrol operations in Accra to augment police patrol duties.
The patrol team would provide security in a friendly and interactive manner, with officers on horseback.
This is expected to complement other police patrol duties including Community Foot Patrol, Motorbike Patrol, Visibility Patrol and recently deployed Motorcycle Traffic Management and Mobility Teams in Tema, Accra and other crime-prone areas in the capital.
Speaking at the launch of the operation, the Director-General of Information Communication Technology (ICT), Commissioner of Police (COP), Edward Tabiri assured the officers of the needed communication logistical support during their duty tours.
This is to ensure that they communicate efficiently for assistance whenever the need arises during their operations.