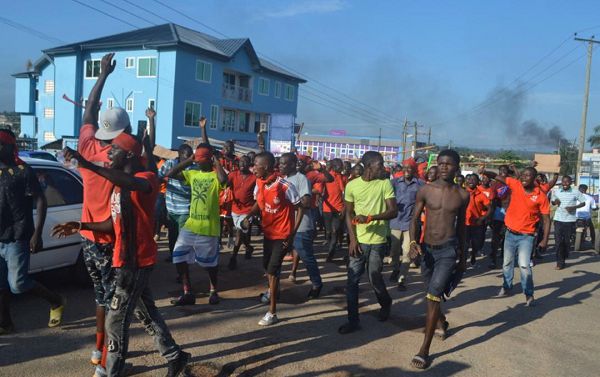 Police officer injured in Agona Swedru demonstration
One police officer has been injured in a demonstration at Agona Swedru in the Central region.
Both residents and drivers hit the streets on Monday to demand that their roads be fixed.
A protester is reported to have thrown a stone at the said officer who was dispatched to the scene to ensure law and order.
The drivers have blocked major roads leading to the Swedru township which serves a transit point for many towns such as Akyem Oda, Winneba, Ajumako, and Awutu Bawjiase.
Read more: School children stranded over demonstration
Secretary of the drivers union in the area, William Agyame said "the drivers are plying on deplorable roads. We want government to fix our roads. We always pay tolls yet, we don't know what they use it for. So we want them to explain to us what they use the monies for".
The residents have however given government a month ultimatum to fix their roads or face their wrath.
Meanwhile, there is police presence in the area to forestall any violence.