Political parties reject "bogus, bias" UG survey on new voters register
The Inter-party resistance against new voters register has rejected a research conducted by the Political science department of University of Ghana.
The research suggested that 6 out of 10 Ghanaians are in favor of a new voters register.
A total of 27,500 respondents were interviewed across all Municipal and District assemblies.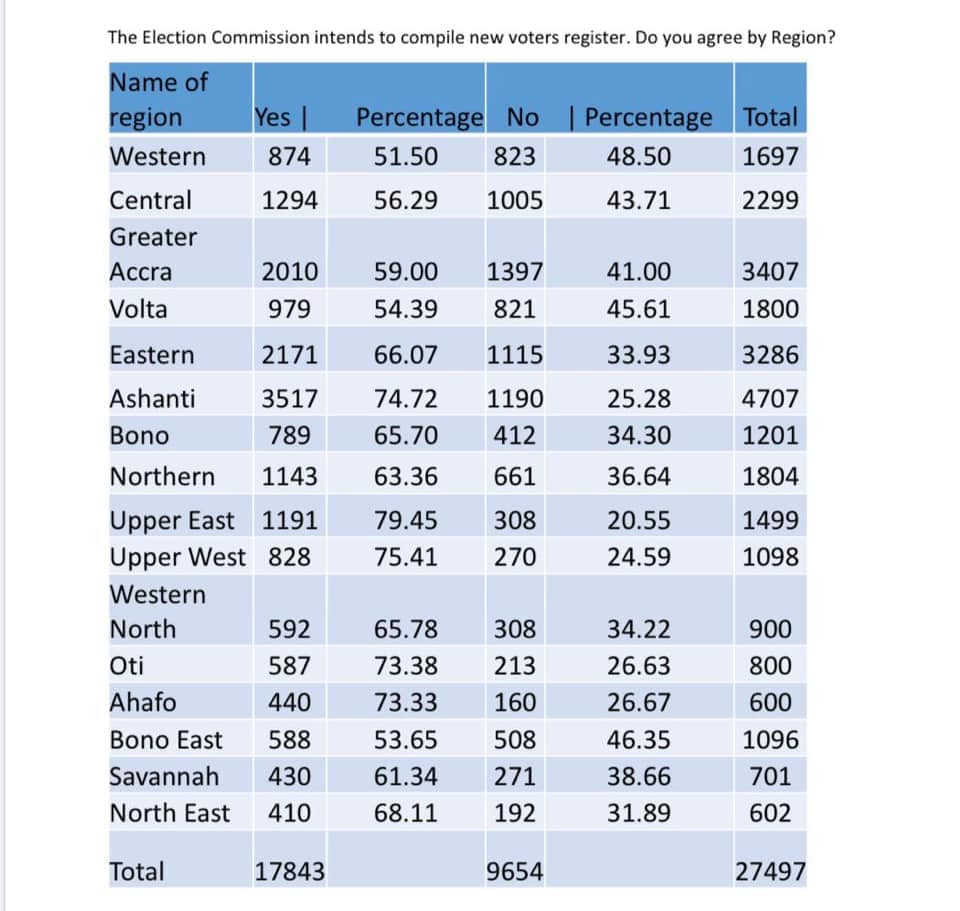 One of the researchers and lecturer at the political science department of the University of Ghana, Dr Isaac Owusu Mensah said most of the respondents believe a new register will ensure transparency in this year's general election.
The survey comes at a time where most political parties have rejected the EC's justification for a new voters register.
Chairman of the PNC Bernard Monarh described the research as bogus, bias and without merit.
"This is one of the most bogus researches that has ever been conducted on the surface on earth. This is a research that has been done on the appointees of the Nana Addo government. We're talking about MMDCEs. Obviously, MMDCEs are all members of the NPP. Even to the extent that 21% of them indicate that they do not accept the call for a new voters register should tell you that if proper research was done, it will not amount to this" Mr Monarh said in an interview on Starr FM.
He also questioned the interest of the institution which funded the research. According to him, the Germany based think tank, Konrad Adenauer Foundation is a right wing of the NPP which only supports the ruling party.
"Everyone one of us know that it is the right wing political foundation from Germany that in Ghana in particular, it supports only the activities of the NPP and no other party" he said in the interview monitored by theghanareport.com.
The Inter-party resistance against a new voters register on Tuesday February 4, 2020 embarked on its third demonstration in Accra after similar ones in Kumasi and Tamale.
The protest was organized by the largest opposition party NDC and other political parties to pile pressure on the EC against compiling a new voters register.
They have argued that the decision by the EC will only be a waste of the tax payer's money. The group maintains the current voters register is credible and fit for the 2020 Presidential and parliamentary polls.
Thousands of Ghanaians joined in the march to pressure the EC to rescind its decision to compile a new voters roll.