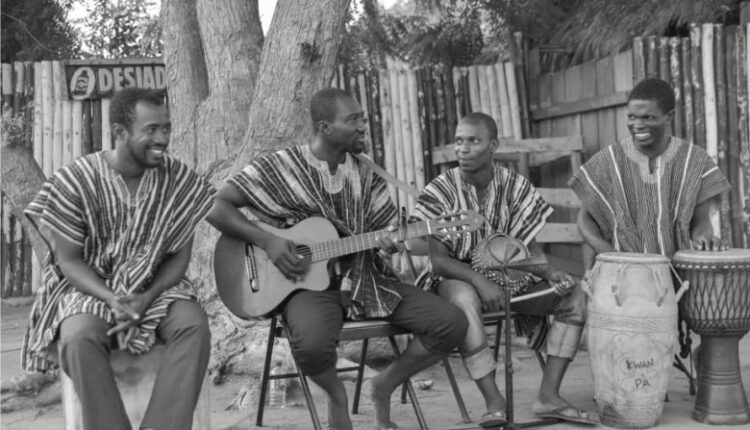 Preserving Ghana's folklore: meet the palm wine music-makers of "Kwan Pa" band
With their witty lyrics and performances, the "Kwan Pa" band has entertained Ghanaian fans with refreshing renditions of songs in their chosen indigenous, traditional genre – palm wine music.
All the members of the band were instrumentalists in the same local branch of the Presbyterian Church before deciding to form the band in 2017.
The "Felix Cannot Dance" singers shot to fame in 2018 when a Christmas song released by the band went viral.
"Deliberately selected" melodies
The leader of "Kwan Pa", Asah Nkansah, told Asaase Radio that although Christmas songs gave them a lot of mileage in the media, and contrary to the idea that they only "do Christmas carols", they also cover "a lot of old Ghanaian tunes".
He said that the band performs patriotic songs about Ghana's struggle for independence, folk tunes by anonymous composers (Anansesem mmoguo), such as "Senewa dendendee" and "Dendendeekwaee". They have also produced versions of old-time classics by Agya Koo Nimo, Nana Ampadu, J K Amoah and Paa Bobo, among others.
They push the boat out even further, performing "some current popular songs from selected musicians like Sarkodie and Kuami Eugene".
Nkansah added that Kwan Pa arranged the melodies of these "deliberately selected" musicians to palm wine rhythms as "an experiment … to see how receptive palm wine music will be to other styles of music and other composers".
Looking to train another band
Nkansah revealed that the band is in talks with managers to put together and train a band of the same kind.
Kwan Pa gets overbooked, he explained, "and have to just choose one [booking] and honour it, because we cannot be in all those places at the same time".
The members of Kwan Pa see themselves "as not just a band, but an institution geared towards the preservation of various music traditions from Ghana, including palm wine music, where we have started from".
Folkloric storytelling (Anansesem) is an integral part of Kwan Pa's music and performances.
Their purpose, as Nkansah describes it, is "to not just entertain people now, but to actually influence people to join in the preservation of some of our great traditions and values which we may lose if care is not taken".
Meet the band
Fredrick Minamor on the kpanlogo drums, Evans Entie on the twin bell with rattle, Bismark Osafo playing the gome (the frame drum, otherwise known as the square bass drum) and Nkansah on the classical guitar make up the four-piece band.
Between them, the quartet play a wide selection of traditional instruments, including the frikyiwa (castanets), shekere (big rattle), seprewa (harp-lute) and acoustic guitar.