President nominates physically-challenged teacher as Oti Regional Minister
Ghana's physically challenged people have always said they felt left out of everything – from jobs to governance. 
But  President Akufo-Addo in his quest for an inclusive government has nominated a physically challenged teacher as Oti Regional Minister-designate.
Joshua Makubu, a farmer, a trained teacher, and a Ph.D. candidate when approved by Parliament will succeed his predecessor, Nana Kwasi Owusu-Yeboah.
The former Oti Regional Secretary of the NPP despite his disability is said to be an active member of the party.
Mr Makubu told Citi News that his appointment would spur others on.
With persons living with a disability at the receiving of prejudice and misconceptions, he said his appointment would help  in ending negative stereotypes about persons with disabilities (PWD).
"It is something that I am finding difficult to belief. Not until you called me and I am talking about it then I am sure that it is very real because of past events and what one has to go through.
"But I think so far so good, and it is something that I never ever expected that it will come in such a very simple and straight forward manner. Certain substantive positions and other positions of influence for persons with disabilities, to give them the opportunity to showcase their capabilities. We are not saying that we should be favoured by giving opportunities, no! We want the space to be created for us to showcase what is within us."
"Because there are a lot of people who are still living in this kind of stereotype and prejudice, the moment they see you as a person with disability, the next thing they think about is alms, what to get for me to go and buy some water or food and eat and we want to say enough is enough," he told the Accra-based radio station.
The Ghana Federation of Disability (GFD), which has been vocal about the discrimination against its members, commended the government and hoped for more nominations.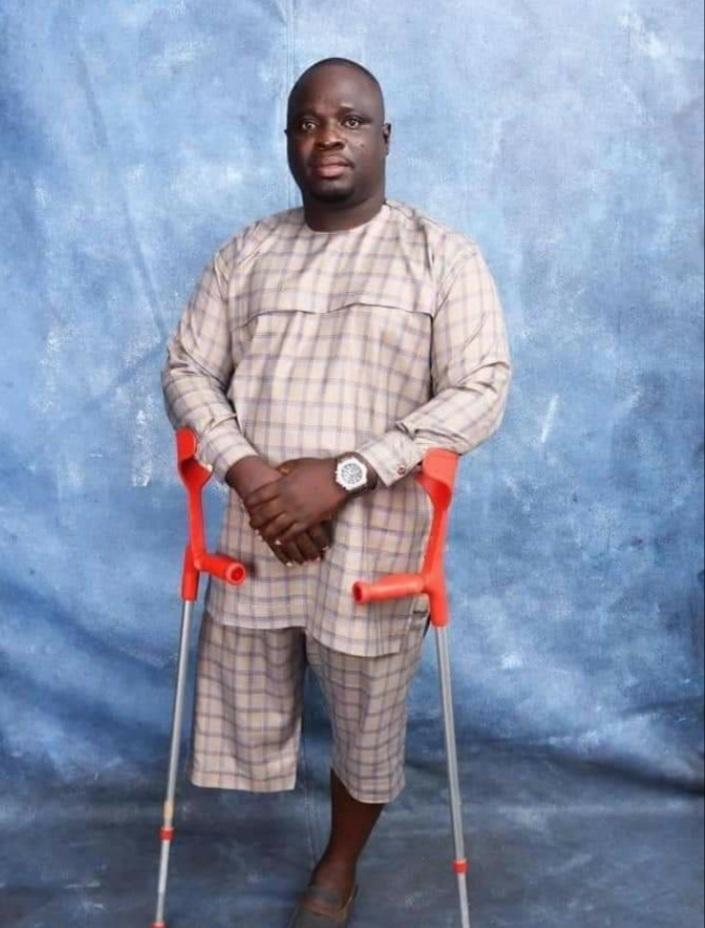 "To GFD, Joshua's nomination is an example of inclusivity, and has contorted our advocacy to promoting the appointment of persons with disabilities into positions of trust".
"Yes, inclusion matters. We believe more persons with disabilities will be given the same opportunity" part of a post on the organization's official Facebook page read.
This is not the first time, a physically challenged person has been designated for a ministerial position.
In 2013, former President John Mahama appointed Dr. Henry Seidu Daanaa, a visually impaired lawyer as the Minister for Chieftaincy and Traditional Affairs.
Some people including the then NDC flagbearer aspirant, Alban Bagbin, raised objections to his appointment citing reasons that disabled individuals could occupy positions in the traditional setting, therefore, a visually impaired individual could not lead Chiefs.
"In our tradition, if you are not whole can you be a chief or a queen mother? So, when you form a government and make the minister for chieftaincy a blind person, and the chiefs are objecting and you don't change it, what are you telling the chiefs? he said.
But later, the National House of Chiefs accepted his nomination and worked with him.
Mr. Bagbin also raised objections to the appointment of Dr. Omane Boamah as Communication Minister in 2013.
According to him, Dr. Omane Boamah, who stammers would "waste time" communicating to Ghanaians due to his disability.
"I learned from tradition that it is not the chief that speaks, it is the linguist and, so, when you are a leader, you must have a very good linguist… he is a very intelligent boy, he is smart but when he is speaking, he wastes time in coming out and Ghanaians do not have that much patience, so, they are always looking for those that are rattling" he added.
Since his nomination, some social media users have commended President Akufo-Addo.
"Disability is not inability". Meet Joseph Makubu; the civil society activist who has been designated by President @NAkufoAddo for the minister of Oti Region! pic.twitter.com/ZYTbr5hKtH

— Yaw A. Abban (@YAbbanx) January 21, 2021
Congratulations Mr. Makubu on your appointment as minister designate for Oti region

— Owuraku (@bismarkkwarten4) January 22, 2021
A President who looks beyond physical ability.
Joseph Makubu – Minister designate OTI REGION @NAkufoAddo https://t.co/XixLzUlNLK

— SaltMan🇬🇭🇳🇬 🇨🇮🇧🇫🇳🇪 (@KApeaning) January 21, 2021
The Joseph Makubu' Story (Minister Designate for Oti Region) must be told Far and Wide.

Such a heartwarming appointment. pic.twitter.com/mOOJb89vkw

— Ayawaso Chief Whip🌹🌹 (@AyeBoafo6) January 22, 2021
Oti Regional Minister-designate Hon Joshua Makubu. Disability not a hindrance. Oti Region is proud of you. Hard working man @abitofuseini92 pic.twitter.com/Kh3eq0PGKa

— TheSolomon (@_TheSolomon) January 21, 2021
Oti Regional Minister-designate Hon Joshua Makubu. Disability not a hindrance. Oti Region is proud of you. Hard working man @abitofuseini92 pic.twitter.com/Kh3eq0PGKa

— TheSolomon (@_TheSolomon) January 21, 2021