Psalm Adjeteyfio cannot be a charity case, fix the royalty system – Stonebwoy
Dancehall artiste, Stonebwoy, has waded into the conversation about the financial status of veteran actor Psalm Adjeteyfio.
Psalm Adjeteyfio has been in the news recently, soliciting funds for his upkeep.
"When you have a problem, and you don't tell people about it, there's no way they would know," the actor said.
After the public outcry for help, the Greater Accra Regional Minister, Henry Quartey, pledged to give the veteran actor GHC1,500 from his salary as a Member of Parliament till the end of the seventh parliament.
The Vice President, Dr Mahamudu Bawumia, also donated GHC50,000 for his housing needs.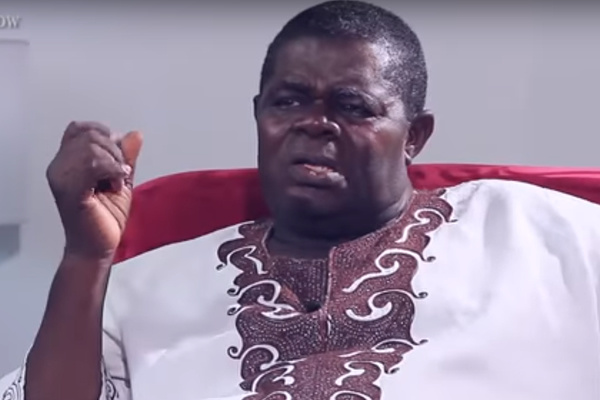 Some other benevolent individuals also reached out to the actor.
But the dancehall artiste believes the actor should be feeding off his years of sweat and not from the benevolence of others.
The Burniton Music Group boss called for the system to be fixed.
Stonebwoy wrote: "It's a Great Thing to Donate to support People. ( Though some jump on it for clouts) For uncle TT and the likes unfortunate situation. should someone who has worked his whole life as an actor be feeding off donations or the reward of his hard work?
It's a Great Thing to Donate to support People.
( Though some jump on it for clouts)
For uncle TT and the likes unfortunate situation.
should someone who has worked his whole life as an actor be feeding off donations or the reward of his hard work?

— 1GAD (@stonebwoyb) September 16, 2021
"Does this simply mean that we are all headed to damnation? After working so hard from your youthful age to your adulthood entertaining your county, in your old age, you become a charity case? Let's Fix The Royalty System.."
Does This simply mean That We are all headed to damnation? After working so hard from your youthful age To your adulthood entertaining your county, in your old age you become a charity case?
Let's Fix The Royalty System.. https://t.co/73wPXyFwGK

— 1GAD (@stonebwoyb) September 16, 2021