Railways Ministry, investor sign agreement
The Ministry of Railways Development has signed a memorandum of understanding (MoU) with a private investor, Coastal Railway Network (CRN) Limited, to undertake a trans-ECOWAS railway line project.
Under the agreement, CRN will use its professional skills and funds to undertake the 570-kilometre rail project on a build, operate and transfer (BOT) basis.
The Minister of Railways Development, Mr Joe Ghartey, signed the MoU on behalf of the ministry, while a Director of CRN, Mr Stanley R.K. Ahorlu, signed for his company.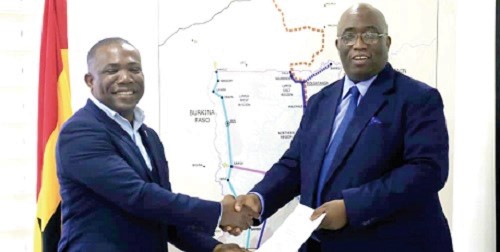 Project
The proposed trans-ECOWAS railway line, a standard gauge line, will commence in Aflao on the border with Togo in the east and head towards the west, along the coast of the Gulf of Guinea, connecting towns such as Keta, Sogakope, Ada, Tema, Accra, Winneba, Mankessim, Anomabo, Cape Coast, Takoradi, Axim, among others, and terminate at Elubo on the border with Cote d'Ivoire.
The total length of the proposed line is approximately 530 kilometres.
The expansion is in line with the objective of the Economic Community of West African States (ECOWAS) to link all member states by rail.
The project will result in direct rail connectivity with neighbouring states, Togo and Cote d'Ivoire, to boost trade and facilitate economic growth and development in the beneficiary West African countries.
When completed, the trans-ECOWAS railway line will further facilitate the achievement of the broad objectives of the Union of African Railways to link member countries by rail.
Strategy
Mr Ghartey explained that the signing of the MoU was part of the ministry's strategy of developing a nationwide modern railway network,
"That is a capital intensive project and the ministry, thus, seeks an effective collaborative partnership with private sector investors and I believe this MoU will help in that direction," he said.
The ministry was also negotiating with an EPC + F contractor to construct a section of the Accra-Cape Coast section of the line, he said, adding that subject to successful negotiations and approval, the project might commence in 2020.
Background
On December 19, 2018, the Ministry of Railways Development engaged the services of a consultant, Messrs M.R. Technofin Consultants Limited, to undertake feasibility studies on the development of the trans-ECOWAS railway project.
The study involved economic, financial, social and environmental assessment of the proposed line, mapping out the right-of-way and the development of a business case to attract investments towards the development of the line.
The study is expected to be completed by the end of 2019.