Rawlings joked about dying with me during aircraft stunts – Zanetor
Daughters often have an inseparable bond with their fathers, and so it was between the late former President Jerry John Rawlings and Dr Zanetor Agyeman- Rawlings, with the former joking about dying together.
Zanetor, the firstborn, embodied her father's strength and vigour and landed on earth 11 months before Jerry's first attempted coup.
She was often on high-adrenaline adventures with the former military man credited as one of the best pilots in the history of Ghana's Airforce.
On one of such occasions, she recounted, that the late President said in jest that he preferred flying with Zanetor in case the angel of death struck his synth, to spare the rest of the family.
Pouring out some fond memories of her father who died on  November 12, 2020, Zanetor recollected an occasion that remained in her memory as a young lady.
In response to a question posed by former MP and Minister for Communication Fritz Baffour during a vigil on Sunday, January 24, Zanetor said it was in the 1990s when Ghana first acquired the Defender military aircraft.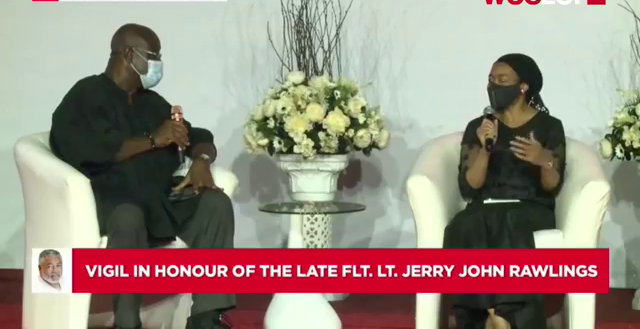 Her father came to pick her up for flying lessons.
At the time, her mother Nana Konadu Agyeman Rawlings was not home, but then her siblings and one of her mother's friends were in the house.
The family friend wondered why Jerry declined to go with the other siblings.
In response, he told her that they would do a simulated ending failure that involved turning off one engine and flying on the other engine for a while in the air before restarting the engine.
Jerry added: "If we all go and something goes wrong we will all die, but if I just go with her, then only one child…" Zanetor giggled trying to break a smile under her black mask in the company of Group Captain Richard Fordjour (Rtd.), a confidant of Jerry.
"I remember how he got upset if we all flew on the same aircraft," she recollected at the event held at the Air Force Officers Mess at the Burma Camp in Accra.
Her father would say, "decrease the chance of the whole family dying and split yourselves", anytime the whole family was flying on the same aircraft.
"He was just an interesting man," she concluded.
Zanetor and her three siblings – Kimathi, Yaa Asantewaa and Amina – lived less of their lives at the Christiansburg Castle in Osu, the seat of government at the time.
One of the reasons was security.
Jerry, the only person to have staged two coups in the history of Ghana and survived 33 coups, knew the instability "was a threat to his life sometimes and he didn't want us to be a part of that so he felt that if we lived in a separate location, it would kind of decreased the risk".
Zanetor said her father was purpose-driven and taught them to drive the car before their foot could reach the vehicle's pedal.
"When he was with you, he was present. We didn't get to spend that amount of time with him every day, but when you did spend time with him, it was fruitful."
Jerry taught them to fly a model aircraft and bicycles as infants.
She has been captured riding a bicycle as recent as 2016 at Osu within Klottey Korle, the constituency she represents.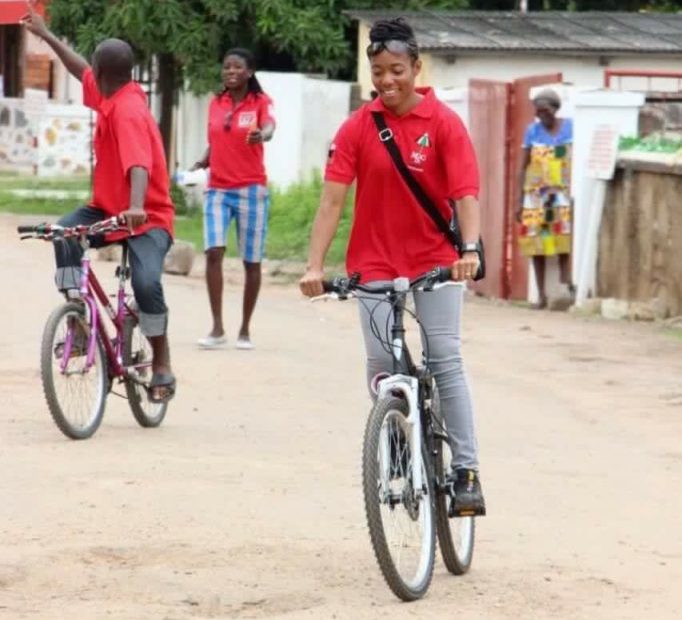 Zanetor, a medical doctor gained a second mandate in the last election held in 2020.
My father was a perfectionist
"Privately, what you saw is what you got, and to a large extent, the man you saw who was passionate about things was a perfectionist. He would pick on the strangest things, but he observed so much," She narrated.
"I remember when we were at the castle, and I walked up the stirs, and he just turned and asked me 'how many stirs did you climb'? I didn't have an answer, but he had a way of bringing your attention to little details, and unfortunately, it is one of the things that I picked that annoy people around me".
Rawlings was a prankster
Beyond the stern looks and hard-handedness, Jerry had a soft spot and often played pranks on those around him.
"He was a bit of a prankster, actually, always cracking jokes. I think he struggled with his vision for what needed to happen with that sense of humour that was always there".
Zanetor indicated during the PNDC era, they were going to an event, but before they headed out, Jerry got one of his stewards to put a smelly cheese under the seat of the vehicle of his bodyguards.
The vehicle which was part of the convoy was just behind Rawlings' car. As the team headed out, the soldiers became uncomfortable with the foul smell in the car.
"As we drove out of the castle, he (Jerry) was looking in the rearview mirror, and he saw the car stop. He started laughing because he knew what was happening," She said about her father.
Each of the bodyguards looked at the other with suspicion to find out who was responsible for the pungent smell.
But one of the guards who had spent a lot of time with her father "figured out that the old man had done something; he had played a prank on them".
After searching thoroughly, they found the smelly cheese under the driver's seat and got rid of it.
"That was the kind of person he was; funny about everything".
You may also be interested: