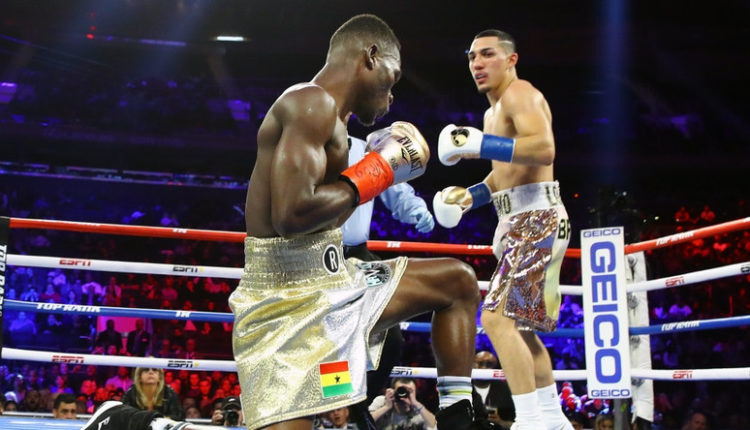 'Real beating' – Ghanaians react to Richard Commey's defeat to Teofimo
Ghanaian boxer Richard Commey lost his IBF Lightweight title to Teofimo Lopez following a second round crushing Knock Out from the Mexican American at the Madison Square Garden in New York.
After a somewhat even first round, Lopez came into the second round with more poise, sending Commey into the canvas with devastating right hook.
Commey beat the count to manage to stay in the fight but having sensed danger, Lopez went in for the kill, firing a flurry of powerful punches to overpower the Ghanaian and snatch his IBF Lightweight title away in impressive fashion.
That was a real beating for Commey . Dazed by a right before a flurry of punches ended it all. pic.twitter.com/qd7lSABvsY

— Michael Oti Adjei (@OtiAdjei) December 15, 2019
Richard Commey's team got their strategy wrong. Teofimo Lopez was always going to start fast. Richard should have weathered the early storm and then gone to work. Lopez is the new IBF lightweight champion.

🎥 ESPN pic.twitter.com/493Y6ae8Rz
🎥 ESPN https://t.co/493Y6ae8Rz https://t.co/6xxnzCW0ha

— samuel fifi bartels (@sammybartels) December 15, 2019
Teofimo Lopez is 22 years old pic.twitter.com/HQDA6ru4qp

— Jimmy Clarke (@JimmyClarke) December 15, 2019
That was an eruption. Im stunned. Stunned!!!

— Godfred Akoto Boafo (@eastsportsman) December 15, 2019
The sad aspect is Ghanaian boxers losing their titles close to xmas, shuttering our celebration. #CommeyLopez pic.twitter.com/nPwpS6dich

— SEIDU ADAMU (@Chiefseiduadamu) December 15, 2019
Be like them tow wanna man ooo. Round 2 TKO. Slow ba we move #CommeyLopez

— Nii Bortey Oteleŋshi Pabs (@optimum_desire) December 15, 2019
UNBELIEVABLE: I watched the fight and was shocked at @RichardCommey performance. I know my man and I think something went wrong on the night#CommeyLopez pic.twitter.com/68aOx6uO2v

— Bernard Neequaye (@BernardNeequaye) December 15, 2019
Lopez beat Commey potɔɔ he knock him out in the second round 😔😔😔 #CommeyLopez

— Kofi Sika GuyGuy (@SikafotosIV) December 15, 2019