Ridge City signs partnership agreement with Everton
Malta Guinness Ghana Women's Premier League side, Ridge City Football Club, has signed a partnership deal with Everton Football Club.
The Ghanaian club join Everton's International Academy Affiliate Programme (EIAAP) with the Merseyside outfit looking to build on the huge progress made in the women's game in recent years.
With Everton targeting an expansion in the knowledge and expertise of player development processes to affiliated clubs across the world, Ridge City becomes the first African club to join the EIAAP programme.
The Toffees also seek to expand Ridge City's profile by facilitating and developing the women's game in Ghana and offering a pathway for players.
The partnership also includes collaboration on player and coach development between the two teams as well as coach education and helping Ridge City establish themselves as a foundation club for women in Ghana.
Speaking about the partnership, CEO of Ridge City, Cleopatra Nsiah Nketiah, said "I am super excited about the partnership. We have been looking for an opportunity like this for a long time and the most important thing for us is that women in Ghana are serious about playing football.
"I feel like our relationship with Everton will help us on that pathway and let our people know that in Ghana you can play football and that there can be a career path, perhaps even having a chance to travel to the UK and trial there.
"The environment and resources Everton can provide is a huge pull and the opportunity to have online coaching programmes to follow, and even potential visits by their coaches, is another real positive that we can tap into, to help our women feel that they are part of something bigger.
"I want to let the world know that we can see a pathway forward for Ridge City and this is a relationship we can't wait to be a part of."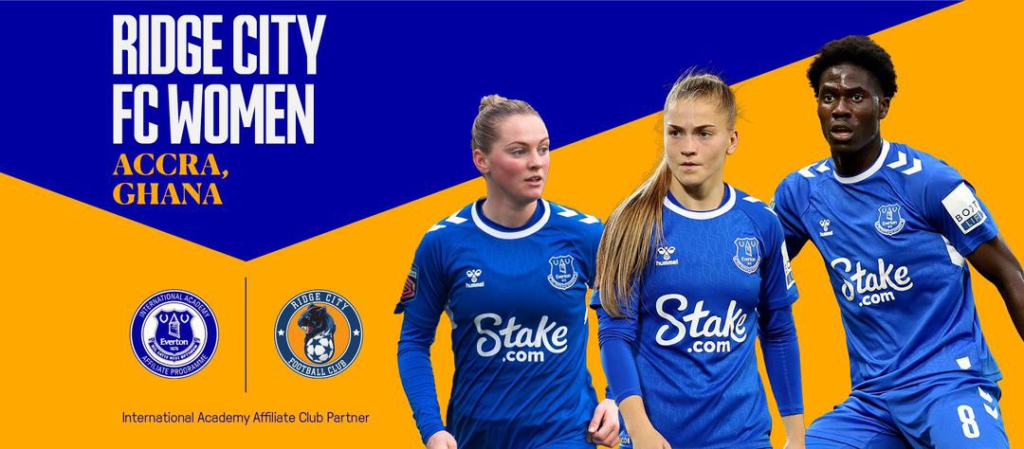 The Everton Academy curriculum will be shared with Ridge City during a future visit by Paddy Byrne, the club's International Technical Manager, who also aims to provide techniques employed at Finch Farm to improve player and coaching abilities.
Byrne added: "We are delighted to welcome Ridge City as an inaugural women's partner club to Everton's International Academy Affiliate programme.
"I'm excited to work with Cleopatra and her team and help them to build on the solid foundations laid in only four years of existence.
"We feel there is plenty of opportunity for them to grow – and by sharing our values and coaching methods we will build on the affiliate programme in a new territory.
"I am sure this will prove a fruitful partnership for both clubs, and we can't wait to get started."
Everton's International Academy Affiliate Club programme, which is available to grassroots teams, professional sides, youth academies, girls' and women's teams, as well as colleges and universities, was launched in 2020.