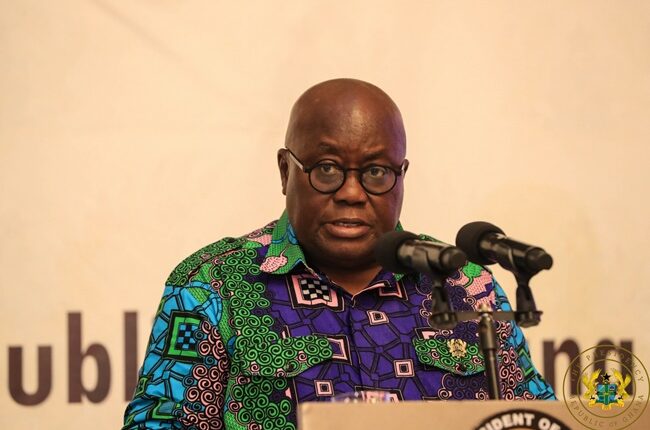 Same-Sex Marriage Will Never Happen Under My Watch – Prez Akufo Addo
President Akufo-Addo has for the second time strongly rejected calls for a possible legalization of same-sex marriages as part of efforts to uphold human rights and sustain a mutually beneficial relationship between Ghana and its development partners.
"I have said it before, and let me stress it again, that it will not be under the Presidency of Nana Addo Dankwah Akufo-Addo that same-sex marriage will be legal", he stressed.
President Akufo-Addo further insisted that; "…it will never happen in my time as President"
This is the second time the President is making his position clear on the issue which has attracted massive discussion on various media networks over the past two weeks.
The President's declaration follows mounting pressure on him and his appointees to state government's position on the controversial issue of LGBTQ+ practice which is currently illegal in most African Countries including Ghana.
President Akufo-Addo made the remark at the St. Micheal and All Angels Cathedral in Asante Mampong during the installation of the Second Archbishop of the Anglican Church of Ghana.
Leadership of the various religious organizations recently jumped to various media platforms to condemn the opening of an LGBTQ community office space in Accra.
Security operatives subsequently stormed the office and closed the facility, an action which was met with mixed reactions from civil society organizations.
Pro – LGBTQ activists including some local celebrities took to social media platforms to condemn what they claim was a needless persecution of the group.
A Ghanaian journalist, Ignatius Annor who is currently working with Euronews in France recently came out to declare that he was gay and had previously denied his sexual preference due to stigmatization, persecution and fear for his life.
Government officials are however not ruling out a new legislation which will comprehensively and explicitly outlaw the practice and promotion of LGBTQ in Ghana.