#SaveOurData trends as group urges subscribers to port networks
Social media users are seething over the new data tariffs rolled out by telecommunication networks, particularly MTN.
The #SaveOurData has taken the top position on social media platform, Twitter.
#SaveOurData is trending and I assure it will not end here on Twitter. We are walking to the Communications Ministry and all the Telcos soon.

We are not angry enough

— Saddick Adams (@SaddickAdams) December 2, 2019
It's like the Telcos cannot be controlled in Ghana…they just do whatever they like…Or they have shares in the country??eii hmm 🤔 #SaveOurData

— KNUST WIFI📶 (@KwesiClit) December 2, 2019
I normally buy 399 which is 200 GB, I just tried to renew and this is what I got, how!!!!!! @MTNGhana #SaveOurData pic.twitter.com/FIWX0r2EM5

— xoxo_Lucia (@Lucy_anko) December 2, 2019
We are blaming those network providers forgotten this government put 9% tax on communication Aww Oman Ghana when ? Too much tax but still we are not progressing this not the change we asked for #SaveOurData

— Woro wo Dross 🍆🍑 🇬🇭🇳🇬 (@BravoChalie) December 2, 2019
The upward review of data charges is due to the increase in the Communication Service Tax (CST) from 6% to 9%, effective October 1.
Internet packages now cost thrice as much as they did previously.
Customers who paid GH₵10 to enjoy 500 MB of data are now paying GH₵30.
They are demanding that the old charges be maintained.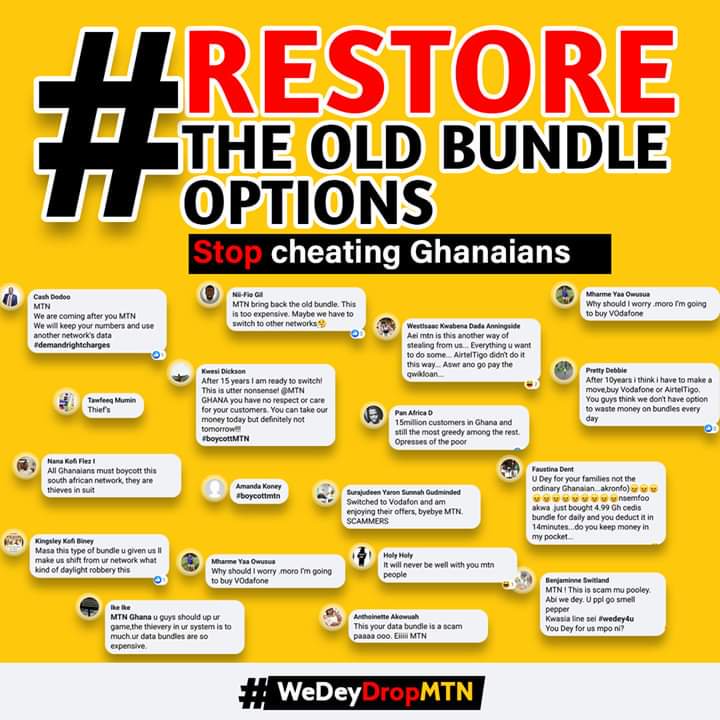 But speaking in an interview on Starr FM monitored by theghanareport.com, Chief Executive of the consumer advocacy center, Benjamin Essuman said customers need to be educated to know they are at liberty to move to other networks if they are uncomfortable with the services provided by their network.
"Thank God we have mobile number portability systems. If you're not comfortable or enjoying the kind of services or the charges your telecom provider is providing you, just port it and shift to another one."

I can tell you that there're other telecos in the system that are providing fantastic rates but over 60 to 70% of the market of data heavily rely on one network and when that network is applying its charges this way, obviously there'll be these concerns" he said.