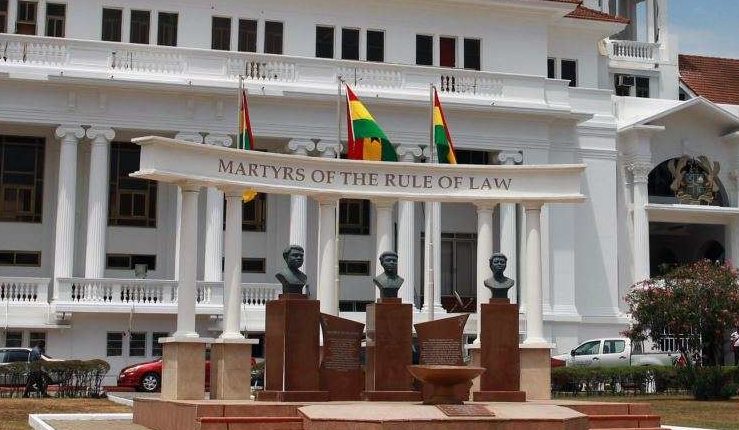 SC dismisses suit against EC, AG over limited registration exercise
A seven-member Supreme Court panel presided over by Justice Sophia Adenyira, has dismissed a contempt application instituted against the Chairperson of the Electoral Commission (EC), Jean Mensa, and the Attorney General (AG), Gloria Akuffo, for going ahead with the limited voter registration exercise which took place from the 16th to the 25th of September 2018, in the areas recommended by the Commission of Enquiry into the creation of New Regions.
The applicants in the action, Mayor Agebleze, Destiny Awlimey and Jean-Claude Amenyaoglo, contented that the decision of the EC and AG to go ahead with the exercise even though they had filed a suit challenging the constitutionality of government's decision to create new regions in Ghana amounted to disregarding the Power and Authority of the Supreme Court.
In court Wednesday, Deputy Attorney General, Godfred Yeboah Dame, and lawyer for the Electoral Commission, Justin Amenuvor, both argued in their affidavit in opposition to the contempt motion that if the applicants really intended to restrain the Electoral Commission from commencing the exercise, they would have filed the application for interlocutory injunction and serve same on the Commission and the AG before the commencement of the exercise on the 16th of September 2018.
In their ruling, the Supreme Court said the contempt application against the EC and the AG was baseless and had no legal legs to stand on in Court. To that end, same was dismissed. The applicants after the dismissal of the contempt suit went ahead to withdraw their interlocutory injunction application since the exercise has already been carried out and completed.
On the substantive matter concerning the interpretation of Article 5(4) of the 1992 constitution, which states;
"Where a commission of inquiry appointed under clause (2) and (3) of this article finds that there is the need and a substantial demand for the creation, alteration or merger referred to in either of those clauses, it shall recommend to the President that a referendum be held, specifying the sues to be determined by the referendum and the places where the referendum should be held", as to who is eligible to vote in the upcoming referendum, lawyers for the State and the Electoral Commission argued that the Constitution is clear and unambiguous and that there is no need for any constitutional interpretation by the Supreme Court.
The Supreme Court after these arguments ruled that both parties should file their addresses concerning the matter within one week.
The Court will reconstitute on the 14th of November 2018 to consider the addresses and set a date for its judgment on the matter.
source: starrfmonline