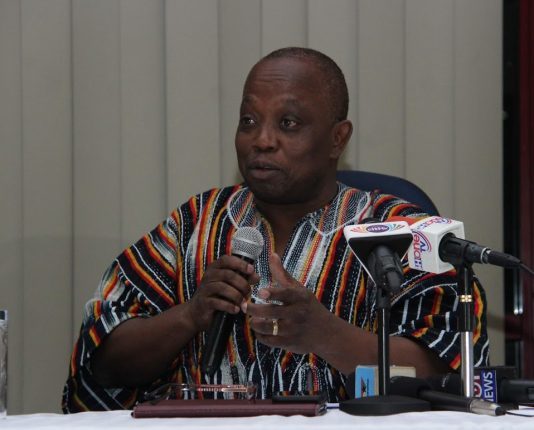 School Feeding Programme cited for irregularities in Auditor General's report
The Auditor-General has cited a number of financial irregularities in the running of the School Feeding Programme within a number of Metropolitan, Municipal and District Assemblies in the country.
A report from the Auditor General dubbed: "The Public Accounts of Ghana Ministries, Department and Other Agencies (MDAs) for the financial year ended 31 December 2018" reveals that such irregularities caused the country to lose millions of Ghana cedis.
The report among other things stated that an amount of GHc899,617 could not be accounted for by 81 MMDAs in the sale of 21,880 pieces of catering application forms which cost GHC1,094,000.
"Under the School feeding Programme, the Secretariat engaged the services of the MMDAs for the sale of catering application forms. Our review of the records at the secretariat showed poor recovery of the proceeds from sale of the forms from the MMDAs. Our examinations showed that out of the GHC1,094,000.00 realised from the sale of 21,880 pieces only GHC194,383.00 had been accounted for leaving an outstanding amount of 899,617.00 unaccounted for by 81 MMDAs."
The Auditor-General in its report attributed the poor recovery of the proceeds to "lack of effective oversight over the MMDAs."
"Management in response agreed with our observation and stated that the MMDAs had been written to, to pay the proceeds of the sale of the Application forms into the Fidelity Bank Account at Ridge Towers. We urged the Secretariat to improve on their partnership with the MMDAs to mitigate a recurrence. We also recommended to the Secretariat to ensure that the outstanding proceeds of GH¢899,617.00 with the MMDAs are fully accounted for."
Unsubstantiated payment – GH¢1,100,000
The report also noted that contrary to Regulation 1 of the Financial Administration Regulations 2004, "our review of the cashbook revealed that a payment of GH¢1,100,000.00 made to Dalex Finance Company vide Cheque No 24292 of 27/03/2017 was not substantiated with payment voucher and other supporting documents."
"In the absence of the payment voucher and other supporting documents, we could not authenticate the expenditure."

"We requested a refund of the GH¢1,100,000.00 from management for its inability to produce the documents for our review, failure of which they would be surcharged," the report added.
Five unsupported transactions – GH¢1,368,348
The report in another instance stated that contrary to section 39 (2c) of the Financial Administration Regulations, 2004 which states that, the head of accounts section of a department shall control the disbursements of funds and ensure that transactions are properly authenticated to show that amounts are due and payable, "our audit disclosed that management failed to substantiate five payments totalling GH¢1,368,348.00 with the requisite documentations like distribution list, contract document, invoices, attendance sheet and list of beneficiaries."
The Auditor General's report noted that "In view of management's failure to substantiate the total payment of GH¢1,368,348.00, we disallowed the expenditure and requested management to refund same failure of which they would be surcharged."