Shatta Wale, 2 others arrested over fake gun attack
Dancehall artiste, Charles Nii Armah Mensah, popularly known as Shatta Wale, has been arrested by police for faking a gun attack on himself.
He is alleged to have masterminded false information suggesting that he was shot by unknown assailants at East Legon and was receiving treatment for bullet wounds at an undisclosed health facility.
Shatta Wale turned himself in today, Tuesday 19 October 2021, at 8.59 pm after police publicly declared him wanted.
Subsequently, he was arrested to assist the police in investigations for his alleged involvement in the creation and circulation of information intended to cause fear and panic.
Two of his accomplices, Kojo Owusu Koranteng, also known as Nana Dope and Eric Venator, alias Gangee, have also been arrested for allegedly spreading false information with the intention to cause fear and panic.
Police said preliminary investigations revealed that the widely reported gunshot attack on Shatta Wale on Monday, 18 October 2021, was a hoax.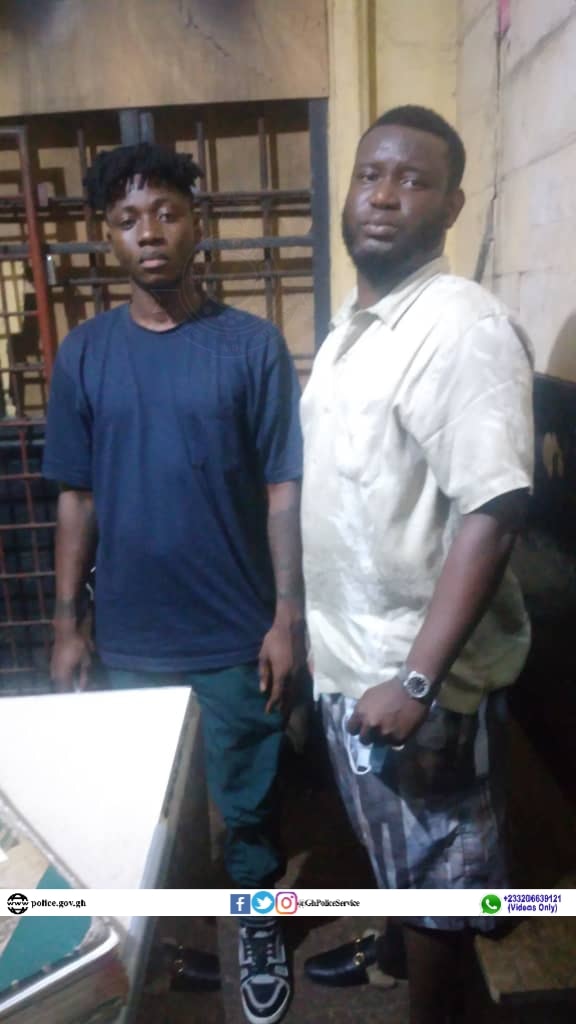 One other person popularly referred to as 'Deportee' is currently being pursued for his possible involvement and knowledge of the circulation of false information with the intention to cause fear and panic.
"No one will be spared if police investigations point to their possible criminal culpability in this matter.
" We want to caution any individual or group to desist from making false claims and engaging in acts capable of disturbing the peace of the country because the law will come after you," the police said in a statement.
Shatta issues apology
Prior to his arrest, Shatta Wale took to social media to apologize to his fans and other people who had been affected by what he described as a prank.
He said he took the phones of the team members and made the fake post.
He made reference to a prophecy that was made by the founder and leader of New Life Kingdom Chapel International, Stephen Akwasi, that he would be shot dead on 18 October 2021.
According to Shatta Wale, he was surprised that the security services could not give him protection after that prophecy came.
"So the police of this country want to tell me none of them saw those threatening statements online to take action?
"This pastor said 18 October, Shatta Wale will be shot, and you want to tell me you didn't see from your cyber crime department, nor did you hear or come across anything like that online?
"I won't wait for Ghana police to call my father and tell my father his son got shot this afternoon. I won't wait for Ghana stupid media houses to spread the news to my fans about me being shot because all we wish in this country is for dead people and funerals.
"If my life can be threatened and there is no law to take action on that, then I guess I will do what is right in the eyes of God," he posted on Facebook.
Pastor arrested
In a related development, the pastor, popularly known as Jesus 'Ahuofe', was also arrested at the premises of Accra FM while preparing for an interview on the station's mid-morning show on Tuesday.
He had made the comments about the shooting incident on the same radio platform on 28 September 2021.
The pastor related it to South African reggae musician Lucky Dube, who was shot on 18 October 2007.