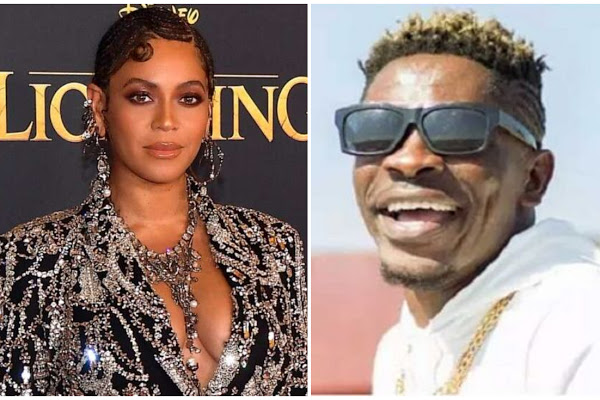 #ShattaisKing trends on twitter ahead of 'Lion King' premier
Ahead of the premiere of 'the gift' and Shatta Movement (SM) fans cannot keep calm.
They have taken to social media to express excitement.
The gift is a soundtrack album created by American singer Beyoncé for the 2019 photorealistic animated remake of the movie 'The Lion King'.
The album featured nine African artists including decorated self-acclaimed dancehall king, Shatta Wale.
Rapper Sarkodie had had international collaborations with Donaeo, Ace Hood, and French Montana while dancehall artiste Stonebwoy with Bunny man, Keri Hilson, Sean Paul, and Stefflon Don.
Fans of Sarkodie and Stonebwoy had teased SM fans for hailing a local champion
Beyoncé feature seems to have come at the right time and SM fans have latched on it
See post below:
Beyoncé hugging Shatta Wale? OMG 😱!!!!! How often does she even hug her fellow American musicians who are close? @shattawalegh is King 🤴
Charles I'm coming straight to your house to watch the premier with you this dawn. #ShattaIsKing #ShattaRules

— efiaodo (@OdoEfia) July 30, 2020
*An entire music industry banned him

*Media houses blacklisted his songs

*They called him a local champion

*Renowned bloggers tarnished his name for their selfish gains.

..Yet the "black sheep" was hand picked and ordained by God to lead the path to victory #ShattaRules pic.twitter.com/u4C2Ohl0mU

— AMERICAN BORLA 🇬🇭🦅 (@visaboyy) July 30, 2020
Beyoncé clapped for Shatta Wale and hugged him. I know Shatta did something very right more than she expected. Indeed #ShattaRules and he really mature for this game inside. He's not a #NewGuy pic.twitter.com/lKHg8lkdQx

— SHIZZLE 🌟 (@shizzlem1) July 30, 2020
I remember when Willi Roi always says, @shattawalegh is greatest artist in Ghana music industry 🙌🏾. rest well😭😢 #ShattaRules#ShattaIsKing pic.twitter.com/ELC8zC8CHa

— Alex🇬🇭🇺🇸 (@Alexlaws47) July 30, 2020
&
See the way Beyonce is happy to hug shatta wale 🙌😍 we're no longer local champions ooh. We've felt what billionaire Jay Z felt 🙌😍 #BlackIsKing #ShattaIsKing #ShattaRules AceHood pic.twitter.com/SrTuVkUZPh

— S (@Khojo_hazard23) July 30, 2020
Beyoncè Actually Clapped For Shatta Wale Before Hugging Him. Gosh Emotional Scenes There😭

Indeed Shatta Wale Really Rules Ghana Music. Shatta Wale, The Most Hated Yet The Best Musician Ghana Ever Had Really Projecting Ghana Music. Shatta, Your REIGN Is Forever!#ShattaRules

— UCC SHATTA WALE🇬🇭🧠 (@iamsamuelpagge) July 30, 2020
I love what am seeing 👀😍🔥
Who are those saying Beyoncé & Shatta Wale video is editing nu 🤔 yie yie Obini y3m 😂😂💔#ShattaIsKing #ShattaRules pic.twitter.com/dni3ZglxhS

— Spádo Ránking (@SpadoRanking) July 30, 2020
Beyoncé is value at $400million .
For her to clap 👏 and hug 🤗 Nima boy is something else 🙌
Someone who was rejected ,called names and more over said his fans are useless like him .
Today they tell us it's Ghana first . #GodIsAlive
JayZ
ShattaWale#BlackIsKing
#ShattaRules pic.twitter.com/ZFMumaLAKA

— ManaclesofAsHAttA (@kobsol) July 30, 2020
The prophecy #ShattaRules pic.twitter.com/09Fi3zSwtV

— 🅀🅄🄴🄺🅄🇬🇭🄰🄱🄴🄸🄺🅄 (@QuekuAbeiku) July 30, 2020
So Ghana Media how far with the agenda to sabotage and stop shatta wale from hitting the world stage? You Dey plan another one or you give up😂😂😂😂 #ShattaRules pic.twitter.com/otePlkBm3S

— 🅀🅄🄴🄺🅄🇬🇭🄰🄱🄴🄸🄺🅄 (@QuekuAbeiku) July 30, 2020
nbsp;