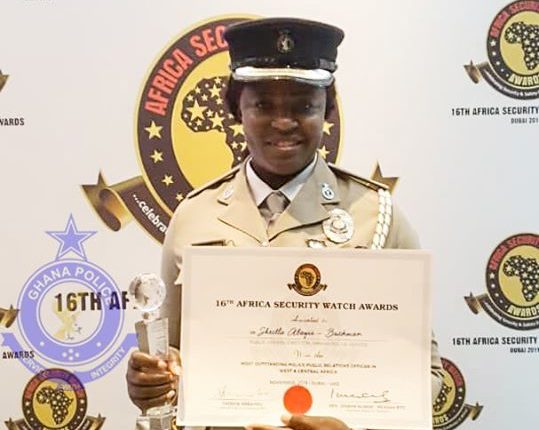 SP Shiela Abayie-Buckman adjudged most outstanding PRO for West and Central Africa at Africa Security Watch Awards
The Director of Public Affairs for the Ghana Police Service, Supt. Mrs. Sheila Kessie Abayie-Buckman has been adjudged the most outstanding Public Relations Officer for West and Central Africa at the prestigious 16th Africa Security Watch Awards held in Dubai.
The event which was attended by officers from Police organisations, Armed Forces and other Institutions in Africa, was held as part of an annual conference on the theme, "Bridging the Security Gap in Africa" under the chairmanship of Brigadier-General Joseph Nunoo-Mensah (rtd), former Chief of Defense Staff and Chief Security Advisor to the President.
Receiving the Award, Supt Abayie-Buckman said "it feels refreshing to be recognized for the hard work one does in silence, not expecting any prize in return but gets noticed regardless".
She dedicated her Award to all hardworking officers "in blue", and thanked the Africa Security Watch for looking beyond the tabloids for security officers who work with efficiency.
The event saw Nigeria police, soldiers and journalists winning the night from several other categories.
Superintendent Sheilla Abayie-Buckman also collected an award on behalf of the IGP for the Most Innovative Community Police Service in West and Central Africa.
ACP Mr. Kwasi Fori was also awarded the Best Operational Officer in Ghana. Ghana's Ministry of Aviation also won Golden Star Award for Exemplary Aviation, Security and Safety Service in West and Central Africa while Hon. Dr. Ibrahim Mohammed Awal was also adjudged the Most Outstanding Government Personality, Human Capital Development Service in West Africa.