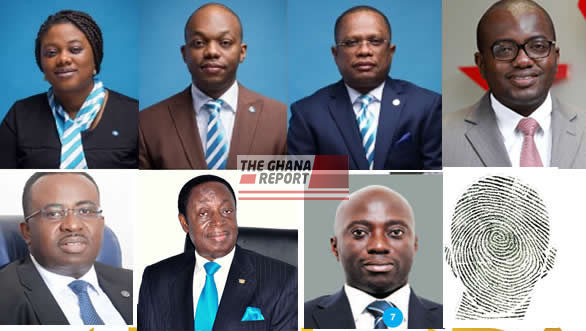 STATE'S FACT SHEET : Who did what in alleged blow up of GH¢5.7bn uniBank cash
Nine persons are standing trial for roles they allegedly played, leading to the loss of GH¢5.7bn in the uniBank crash in August 2018.
They have been slapped with 68 charges ranging from fraudulent transactions to money laundering. uniBank, a private indigenous bank, began banking operations in 2001, but went bust after 17 years.
It was founded by a former Governor of the Bank of Ghana, Dr Kwabena Duffuor, who would later become Ghana's Finance Minister between 2009 to 2012.
But the bank increasing needed bail-outs from the Bank of Ghana totaling some GH¢2 billion between 2015 until its demise.
Dr. Duffuor is also the Founder and Chairman of HODA Holdings, a business entity, comprising Insurance, banking, real estates, farming, mining, and media.
Theghanareport.com takes a look at the facts of the case as presented by the state and maps out the roles each of the nine played.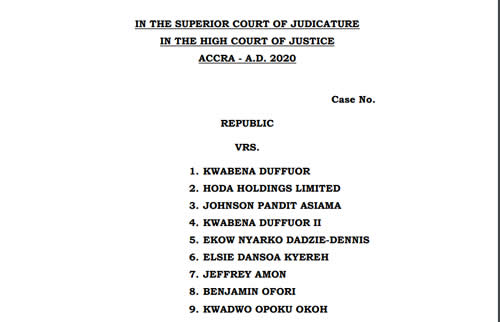 CEO Kwabena Duffuor II and Chief Operating Officer, Ekow Nyarko Dadzie-Dennis
The two withdrew GH¢613 million from uniBank. Some of these monies were for depositors, some came from the Bank of Ghana. They used various means,  including petty cash vouchers and cash pay-in slips to take out the money.
In April 216, they allgedly splashed these monies into businesses connected to the Duffuor family such as HODA Properties, Numa Logistics, Integrated Properties, Topp Recruitment, and Bolton Portfolio.
They also allegedly used some GH¢35m of uniBank money to buy GOIL shares on behalf of

Starmount,

a company related to the bank.
Between November 2015 and September 2017, the two allegedly used GH¢74 million to fund another family business uniPrecision Printing and Packaging Company Limited (uniPrecision).  UniBank failed to recover these funds from uniPrecision.
In spite of being already indebted to the Bank of Ghana to the tune of GH¢850m, the two senior bank officials in December 2016 went for GH¢400m from BoG in overnight borrowing and channeled GH¢325 million through UMB to buy adb shares in the name of related companies Belstar Capital Ltd and Starmount. BoG eventually nullified the purchase of the shares.
In June 2016, using uniBank, they allegedly authorised  a Letter of Credit (LC) in the sum of $12.5 million for the benefit of uniPrecision for the purchase of equipment. Investigations revealed that no equipment was purchased.
              2. Dr. Kwabena Duffuor and HODA Holdings
On top of this family-related business entity, HODA Holdings, is Dr. Kwabena Duffour.
Dr. Duffuor, who sits atop HODA Holdings, a group of family-owned businesses, allegedly received the GH¢663.2m brought in by his son and the COO, Ekow Nyarko Dadzie-Dennis.
Dr. Duffuor and HODA Holdings allegedly  received the GH¢35m cedis and the GH¢74m used to buy GOIL shares for Starmount and also fund the two other businesses.
Johnson Pandit Asiama, former deputy Governor at the Bank of Ghana
In September 2016, he unlawfully served uniBank's interest by approving GH¢300 million facility to Universal Merchant Bank Limited (UMB). This approval came despite [Asiamah] knowing fully well that uniBank would not be able to pay back the money.  This is  because the bank already was struggling to pay back GH¢850m it had already taken from BoG between December 2015 and June 2016.
Elsie Dansoa Kyereh (Executive Head of Corporate Banking),
Jefferey Amon a Senior Relationship Manager of Corporate Banking),
Benjamin Ofori (Executive Head of Credit Risk)
They, together with Kwabena Dufuor II and Ekow Dadzie-Dennis, created 31 fictitious loans amounting to more than GH¢1billion. None of the names used for the loans existed or applied for the facility. This was not reported to the BoG, but pushed into an account where uniBank debts were stashed. They called it the Deferred Expenditure Account (DEA).
      5. Kwadwo Opoku Okoh (Financial Control Manager of uniBank and is
Head of Finance of HODA)
Between November 2013 and February 2014, he allegedly acted with Dufuor Jnr and Nyadzie-Dennis  to allegedly take about $9.5m to buy shares in WAICA-Re, a multi-multinational insurance company.
The shares were to be bought in the name of companies within the Duffuor family business, such as Telemedia Communications (Telemedia), Crown Insurance Brokers (Crown Insurance), uniCredit Ghana Limited, HODA, uniBank, uniSecurities Ghana Limited and Dr. Kwabena Dufuor
Although the monies were taken in the name of these persons and companies, investigators found, five of them – Telemedia, Crown Insurance, uniCredit, uniSecurities, and Dr Duffuor – still had no shares.
Between 30th November 2016 and 23rd December 2016, he and the others again dishonestly caused transfers to WAICA-Re amounting to about $9 million ostensibly as payments for WAICA-Re rights.
It was further revealed that the Dufuor Jnr,

Dadzie-Dennis

  and Opoku Okoh had resorted to an orchestrated scheme to fraudulently cover up uniBank's real stake in WAICA-Re. This was also to facilitate an alleged falsification of the actual state of affairs of the bank in breach of banking regulations.