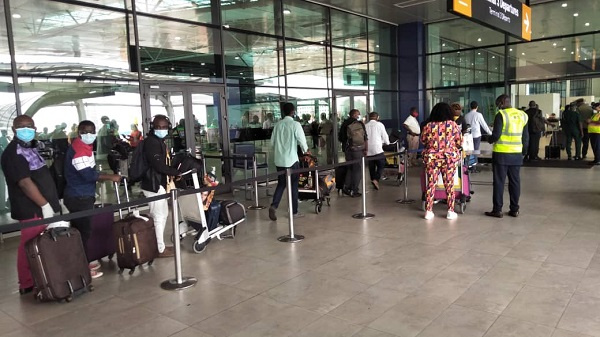 Stranded Ghanaians in South Korea airlifted back home
Some stranded Ghanaians in South Korea have been airlifted back home. 
The evacuees joined a commercial flight from South Korea on July 16, before boarding a government of Ghana facilitated evacuation flight in Dubai. The returnees touched down at the Kotoka International Airport on July 17, 2020.
The government facilitated the evacuation through the Ministry of Foreign Affairs and Regional Integration and the Ghana Embassy in the East Asian country.
The 83 evacuees were mostly businessmen who engage in the importation of vehicle spare parts.
Due to the novel coronavirus, COVID-19, the businessmen were locked up in South Korea and forced to spend more weeks than usual.
"They usually spend three months here (South Korea) but now, they had to overstay because Ghana had closed its borders"
"Because most of them come here (South Korea) to buy spare parts and export to Ghana. They had shipped their goods to Ghana but were locked up in South Korea because of COVID-19," the South Korea NPP Branch Chairman, Zinleri Richard told theghanareport.com in an interview.
The evacuees, however, paid for their airfares from the East Asian country through Dubai to Ghana.
They have been kept in hotels in Accra to undergo a mandatory 14-day quarantine as part of the government's measures to control the spread of COVID-19 in the country.
Although  Richard Zinleri, believed the government's safety measures against the spread of the disease was right, he described the hotel fee for those under mandatory quarantine as "super expensive".
Apart from the evacuation of the stranded Ghanaians in South Korea, the government has airlifted others from Germany, Kuwait,  United States and Nigeria.