Strategic partnership critical for post-Covid-19 economic transformation – Alan Kyerematen
The Trade and Industry Minister, Alan John Kwadwo Kyerematen, has called for a strategic partnership between the government of Ghana and the United States of America (USA).
Mr Kyerematen is of the belief that it is through such strong partnership among countries, particularly, Ghana and the USA, that would speed up post-Covid-19 recovery and engender economic transformation.
"I believe that the USA and Ghana should have a strategic partnership arrangement to develop a post Covid-19 economic transformation agenda, which will support the two economies to our mutual benefits," he said.
He was speaking at the two-day virtual 2021 US-Ghana Business forum which started yesterday and is aimed at deepening diplomatic and commercial partnerships between the two countries.
Recounting the devastating impact of the Covid-19 pandemic on all economies across the world with Ghana and the USA not being an exception, he said, "the capacities of countries to be able to emerge from the pandemic would depend very much on strategic partnerships between countries."
He underscored that the government of Ghana has launched aggressive programmes for its industrial transformation, noting that these programmes would offer planned entry points for US investments into the country.
These programmes, he said, were anchored on industrial transformation agenda that provides numerous opportunities to investors across the world including the USA in specific sectors of the economy.
They include vehicle assembling and component manufacturing, garments, petrochemicals, agro-industry, industrial chemicals such as the processing of industrial salt.
Integrated bauxite and aluminium, iron and steel and the manufacture of machinery and equipment are also part of the areas of strategic partnership with opportunities for investors in the country.
This is to support the country's economic diversification agenda, from being primarily cocoa, gold and oil oriented to other areas like the pharmaceutical, energy and telecommunications sectors.
Touching on the 2021 US-Ghana Business forum, Mr Kyerematen indicated that, it would provide another opportunity for the two countries to plan for the future, opportunities, challenges, and the way forward.
He said, "We have now reached a major turning point in the US-Ghana relations, and therefore this year's forum could not have come at a better time. And I say this based on a number of strategic considerations."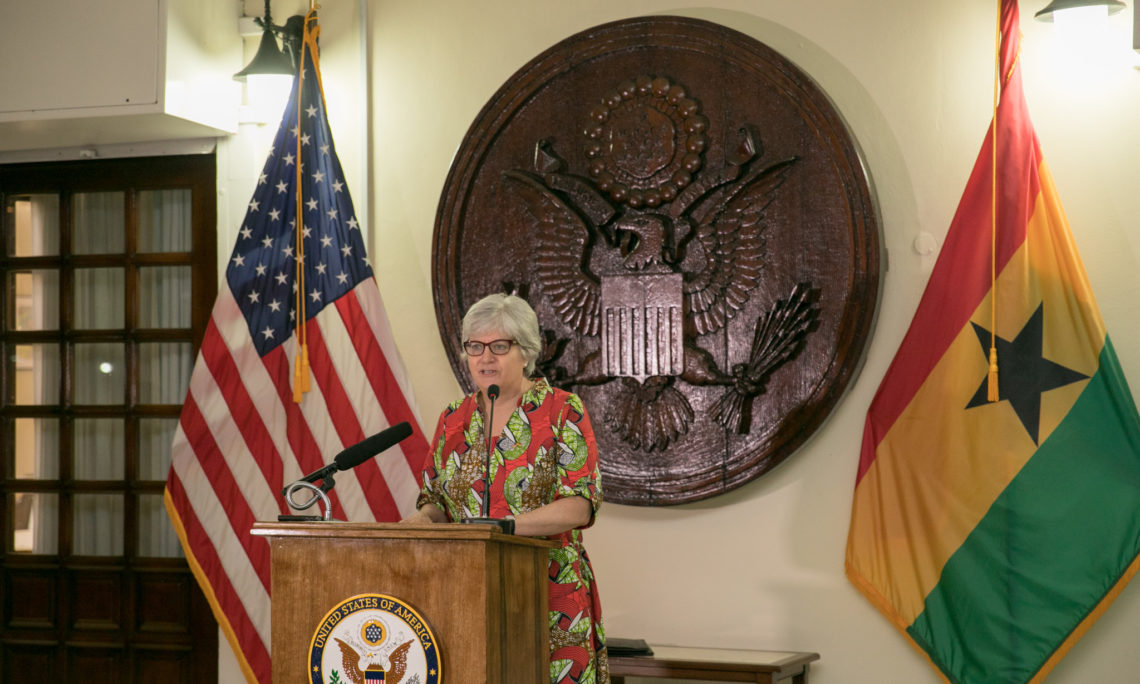 US will deepen investment relations in Ghana
On her part, the US Ambassador to Ghana, Stephanie Sullivan, remarked that the US and Ghana share a long-standing, strong, and dynamic relationship, and would deepen that relations for mutual benefits.
As such, she said, the US would continue to work together on a broad spectrum of issues, including public health, education, entrepreneurship, security, with the most important of all of them, being, building business relationships.
She said American businesses and investors would deepen the ties with Ghana, adding that, "American innovators are eager to partner with Ghanaian businesses across a wide range of industries that support their work, from logistics to raw materials."
The Ambassador noted that while American companies and brands have chosen Ghana as a market for growth, "Ghanaian firms, too, are succeeding in the US market, where consumers are benefiting from quality made products made right here in Ghana."
On export, Ms Sullivan  said, "today, more than 6,500 goods can be exported duty-free from Ghana to the United States." Last year, Ghana exported almost $136 million in goods to the United States, from mostly Ghanaian companies.
The 2021 US-Ghana Business forum
The 2021 Forum is premised on the theme, "promoting US-Ghana partnership through trade and investment," and comes on the back of Ghana's hosting of the Africa Continent Free Trade Area (AfCFTA) Secretariat.
The forum would have several sessions, including a plenary with high-level government officials as speakers, as well as panel discussions on sectors involving experts and senior US and Ghanaian officials from the business community.
The aims to strengthen trade and investment, promote business partnerships, and opportunities between US and Ghanaian companies in areas including technology and digitisation, energy and mining, infrastructure, manufacturing, services and franchising.
The forum would also review trading under the AfCFTA, which is the world's largest free trade area in terms of the number of countries encompassing 1.2 billion people and about US$2.5 trillion.
It would also assess how the Ghanaian companies and the US could take advantage of the opportunities presented by AfCFTA.
The AfCFTA presents a window for African countries and their trading partners to take advantage of the many trade and investment opportunities created.
READ ALSO: USA Delivers Critical Medical Supplies To Boost COVID-19 Testing Capacity In Ghana