Submit your content for preview or face 5 years in jail – NFA
Chairman of the National Film Authority (NFA), Socrate Safo
The National Film Authority has bared its teeth at creators who refuse to submit their content for assessment before airing.
The authority says it will enforce the Development and Classification of Film (DCF), Act 935, which empowers it to preview and classify audiovisual content meant for broadcast.
Audiovisual content that is not censored will not be allowed airplay from May 1, 2021.
Persons who flout the regulations would also face sanctions.
Section 27 of the DCF Acts states that anyone who "commits such offence is liable on a summary conviction to a fine of not less than one thousand penalty units and not more than ten thousand penalty units, or imprisonment for a term of not less than one year and not more than five years or to both and in the case of a continuing offence to a further fine of one hundred penalty units for each day that the prohibited act continues".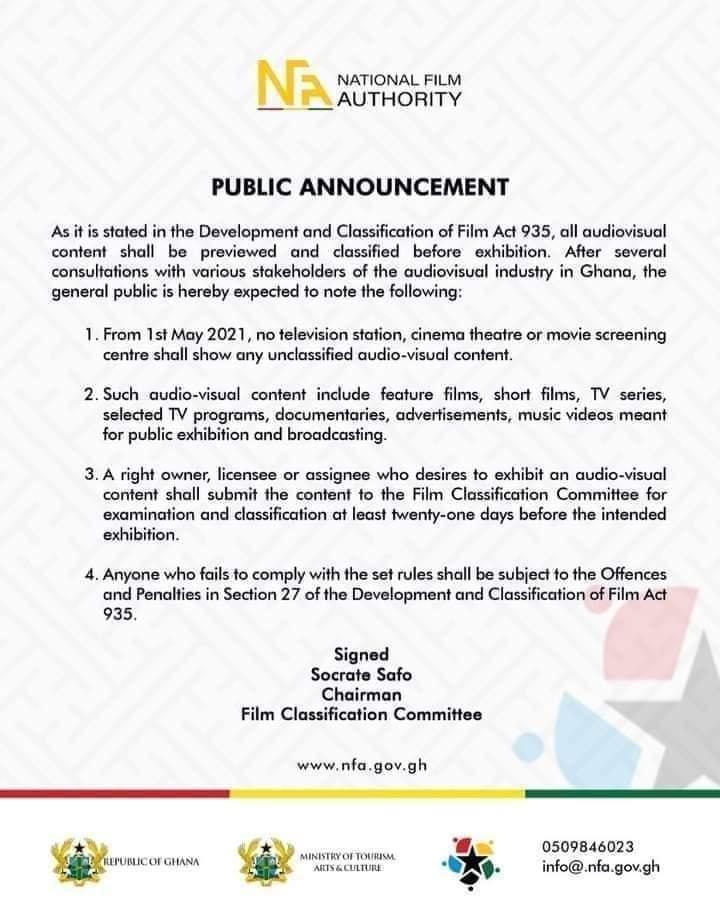 "From May 1st, 2021, no television station, cinema theatre, or movie screening centre shall show any unclassified audio-visual content," the National Film Authority said in a statement.
The directives come on the back of the alleged murder of a 10-year-old boy by two teenagers for ritual purposes.
Since the incident, some Ghanaians have called for censorship of content for airplay.
Former President John Agyekum Kufour has waded into the conversation calling on authorities to clamp down on the activities of fraudulent traditional priests using the media to propagate get-rich-quick messages.
But the National Media Commission says it lacks the legal mandate to censor contents.