Sudanese NHS doctor finally allowed to return to UK
An NHS doctor who felt "betrayed" after being refused a place on a UK evacuation flight from Sudan has now been given a seat.
Abdulrahman Babiker was flown to Cyprus and will travel to the UK on Saturday.
He told the BBC he was delighted to be leaving the country but had mixed feelings about family left behind.
He was initially turned away by officials on Thursday – he has a UK work permit but only UK passport holders were being accepted.
After contacting his MP and being advised to travel to Wadi Seidna air base, he made the perilous journey and then queued for 16 hours, only to be told he could not board.
"They said, 'we are really sorry, this is the guidance from the Home Office'. And a soldier took me out," he recalled.
The Foreign Office had said it was prioritising UK nationals and those in Dr Babiker's situation needed to make their own way to the UK.
Khartoum International Airport has been shut for almost two weeks due to fighting between two warring factions, while the borders of neighbouring countries are hundreds of miles away from the capital.
It is thought at least 24 Sudanese NHS doctors were in a similar position to Dr Babiker.
He credited the apparent change in policy to the public attention his story received.
"I got so much support from my colleagues at the hospital, from friends…. everyone knew the case," the Manchester Royal Infirmary doctor told the BBC.
He said he was due back at work on Tuesday and was meant to have an interview about extending his contract on the same day he was speaking to BBC, but had spoken to his supervisor about his "situation".
While Dr Babiker said he felt "much better" now that he knew he was able to leave, he said the "risk" his family and friends are in has left him unable to sleep.
Dr Babiker was allowed a seat on an evacuation flight, but it is not currently clear if there has been an explicit change in UK government policy.
Deputy Prime Minister Oliver Dowden told the BBC he was aware of the situation and said: "We are in touch with and engaging rapidly with the Sudanese Doctors' Association to see what further support we can provide for them."
He added that over 1,500 people had been evacuated so far in the UK operation, mostly British nationals or their eligible dependents.
Mr Dowden also said that UK evacuation flights from Sudan would end on Saturday at 18:00 BST.
"If you present yourself and you are eligible at the airport we will make sure you get on a flight, just as we have done with everyone else."
It is thought there are around 4,000 British nationals in Sudan, more than half of them having registered with the Foreign Office under evacuation plans.
UK nationals have to make their own way to the Wadi Seidna airstrip near Khartoum unescorted to get on the evacuation flights. One flight has also taken off from Port Sudan to Cyprus with evacuees on board.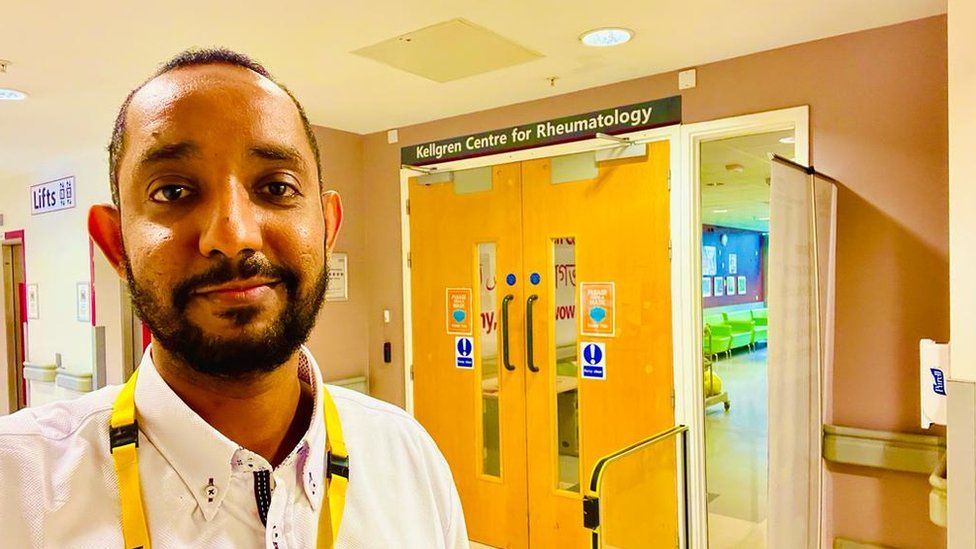 Dr Babiker – who has worked in Manchester for four years – was back in Sudan visiting family for Eid when violence broke out almost two weeks ago.
Rival factions within the Sudanese military are battling for control, destroying large sections of the capital Khartoum in the process and killing hundreds of civilians.
A three-day ceasefire due to end on Thursday night was extended for another 72 hours, allowing more time for evacuation flights to leave the country and people to try and make their way to safety.
Despite this, doctors in the country say 74 people have been killed this week in the western Darfur region, and there have been reports that fighters have burnt markets, warehouses and banks in the city of El Geneina. There have also been reports of fighting between the army and rival paramilitary group – the Rapid Support Force (RSF) – in the capital.
At least 512 people have been killed in the fighting and almost 4,200 injured, although the real number of deaths could be much higher.
The World Health Organization said it expected there to be "many more" deaths due to outbreaks of disease and a lack of services.
Health officials say most hospitals in conflict areas are not functioning, and more than 60% of health facilities in Khartoum are inactive.
There are a large number of people in Sudan with ties to the UK, partially due to historical links between the two countries.
Sudan was controlled as a British colony between the 1890s and 1956, when it became independent.
In 2020, the Office of National Statistics estimated there were around 35,000 people living in the UK who were born in Sudan, including 20,000 Sudanese nationals.