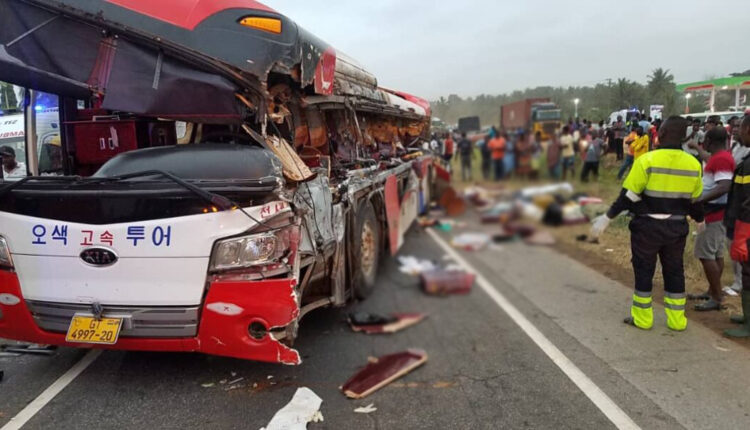 Truck driver in Suhum carnage arrested
The truck driver who caused the accident that left 14 dead at Suhum in the Eastern Region, has been apprehended by police.
The driver, Baguyan Saani, 32, ran from the accident scene in the early hours of Tuesday, September 15, but later reported to the police.
Suhum District Police Commander, Chief Superintendent John Owusu, told Joy FM, in an interview monitored by theghanareport.com, that the suspect was helping police with investigations.
The police said he would be cautioned before any other processes would follow.
Mr Owusu added that 19 of the victims had to be rushed to the Nsawam Government Hospital with one being referred to the Koforidua Regional Hospital due to the critical nature.
READ ALSO: Update: At Least 13 Dead In Tuesday Morning Carnage At Suhum
Six of the deceased are said to be females and seven males, according to the Medical Superintendent of the Suhum Hospital, Dr Kofi Ablorh.
Dr Ablorh indicated that 22 patients were rushed to the hospital. Two children under 5 and 18 others with minor injuries were treated and discharged.
However, one person was still on admission with facial lacerations and another referred to the Koforidua Regional Hospital after being stabilised.
The dead included a nine-year-old, officials of the National Disaster Management Organisation (NADMO) have revealed.
The accident involved a truck carting goods bound for Burkina Faso and two other vehicles – a KIA minibus and an inter-city STC bus.
More than 50 people were injured in the accident.
An eyewitness account had it that the driver of the haulage vehicle was driving haphazardly on the road on the Accra-Suhum portion of the road.
The STC bus which was heading to Accra saw the careless driving and attempted to use the shoulder of the road and ended up in a ditch. A KIA Grand Bird bus, which was behind the STC saw the haulage vehicle a little too late.
And in an attempt to avoid a head-long collision, it swerved, however, the side of the bus smashed and slit open from the driver side all the way to the back of the 45-seater bus, killing some passengers sitting along on that side of the vehicle.
"The impact resulted in the death and injuries to scores of people sitting on that side of the bus. The driver of the Grand Bird bus really tried to dodge the truck but was not successful", the eyewitness continued.
"We rushed to the vehicles to rescue the people but it was difficult so we rushed to call the ambulance at Asuboaye. When we came back the police from Nsawam and Suhum and the ambulance service have arrived at the accident scene and were seen busily working to safe lives and rescue the injured.
"The dismembered bodies of the passengers were scattered all over. It is such a gory sight. The bus is a very long one," the eyewitness told the media.