Suspend members who invoked curses – NPP directs
The governing New Patriotic Party (NPP) has directed that supporters who invoked curses over the disqualification of their preferred parliamentary aspirants should be suspended.
Upset, the General Secretary of the party, John Boadu said, their "awkward behavior" infringed article 3,4 of the party's constitution.
"We are completely appalled by such gross misconduct; the party is instructing the respective constituencies to immediately suspend all those involved in this," he said at a press conference on Monday morning.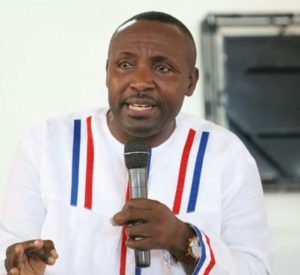 He also charged the constituency leaders to institute appropriate disciplinary actions against them.
Last week, a group representing Francis Owusu Akyaw, an aspirant for the Ejisu-Juaben constituency, accused the party of allowing the incumbent MP, Ama Pomah, to go unopposed.
Supporters of disqualified NPP aspirants invoke gods to strike party executives
According to them, the vetting process was successful for Mr. Akyaw and so could not understand why he was disqualified.
The supporters, in red calico, gathered at Nobowam where the deity, 'Asuo Abena', is located and performed rituals in the river.
They singled out the First Vice National Chairman of the party, Mr. F.F Anto, as the obstacle to Mr. Achiaw's ambitions.
This Mr. Boadu describes as unacceptable, according to him, the behavior exhibited by those individuals was alien to the New Patriotic Party.
"This is something that the New Patriotic Party will not condone, it is alien to the party, we are not going to countenance this at all," he added.