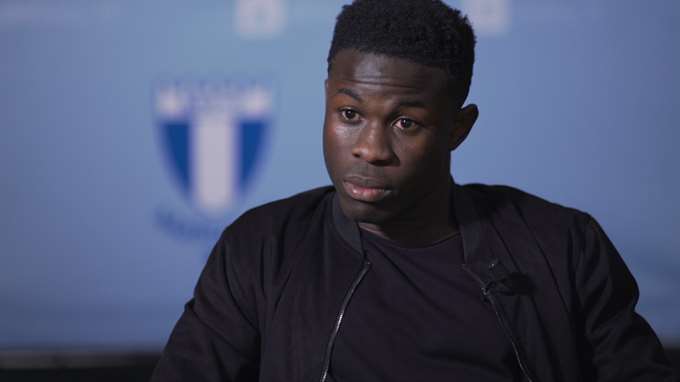 Swedish Court Jailed Me Because I Chose Ghana – Kingsley Sarfo
Ghanaian footballer Kingsley Sarfo has claimed that his decision to represent Ghana instead of Sweden at the international level led to his rape conviction in the Scandinavian country.
The 26-year-old, who was recently appointed captain of Cypriot side Olympiakos Nicosia, was sentenced to 32 months in prison after a court in Sweden found him guilty on two counts of statutory defilement of an under-aged Ghanaian girl.
The Malmo District Court ruled that Sarfo, then 23, had his way with a 14-year-old girl in an apartment and in a public toilet, an accusation which he vehemently denies to date.
The court also ordered Sarfo to pay 150,000 kronor ($17,260) in compensation to the girl, adding he should be deported after jail and banned from returning to Sweden for a 10-year period.
However, the Ghanaian was released after one year and 10-months after an appeal he made.
Sarfo made his debut for Ghana's Black Stars in 2017 in a friendly game but according to him, Swedish football authorities wanted him to represent the Europeans.
The footballer thus believes his decision to reject Sweden's national team accounted for his incarceration.
"During the court session my decision not to play for Sweden was brought up and I was asked whether I was going to play for Ghana or Sweden. I told the court I made the decision to play for Ghana and that didn't appear to sit well with [the judge]," he said in an interview with Kumasi-based Pure FM  on Tuesday.
"I sincerely believe it was part of the reason that they unfairly and unjustly threw me into prison. I had made my choice and decision to represent my country," the player added.
Although The Ghana Report cannot independently confirm the veracity of Sarfo's claim that he was wanted by Sweden, it is not unusual for players of African descent to naturalise to represent other countries if the need arises.
In fact, three of Sweden's four strikers called up for the upcoming European Championships have African ancestry – Robin Kwamina Quaison (Ghana), Alexander Isak (Eritrea) and Jordan Larsson (Cape Verde). However, in all of these cases, the players were born in Sweden, Sarfo was born in Ghana and left for that country in his late teens to pursue his career.
Sarfo returned to football after a two year absence when the Director of Football at Olympiakos Nicosia reluctantly gave him a second chance.
"[Olympiakos] initially had reservations because I had not played professionally for two years. However, after just a game, they were convinced I was good enough for an opportunity".
He has given a good account of himself in his first year at the club leading it to a top 6 finish and cup final after 30 years.
His contract was improved and extended until 2023.